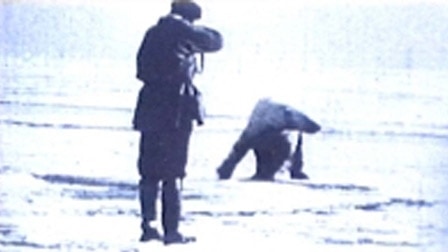 Yervant Gianikian et Angela Ricci Lucchi
Dal polo all'equatore
---
Parallel to the exhibition A Few Things I Cannot Leave Behind and the screening of the film I Diari di Angela – Noi Due Cineasti at the Spoutnik Cinema, a second screening evening with Yervant Gianikian is being held at the Cinema Dynamo.
On this occasion, the public will  discover the film Dal polo all'equatore, considered as the masterpiece of Yervant Gianikian and Angela Ricci Lucchi and around which a series of drawings and watercolours related to it are presented at the Centre's Project Space
The film deconstructs the colonial images of the 1920s: bear and lion hunts, military parades, missionaries at work, porters and other African dancers…. This material comes from the archive of Luca Comerio, a traveller, explorer and pioneer of documentary film. The frames used here are from a 1929 fascist documentary. The strategy developed by the artists involved working with and against the found footage to transform it into a critique leveled at the representation of power.
Dal Polo all'Equatore took about four years to make. It involved taking of 347'600 frames by hand with a special optical printer they created for the project: their "analytical camera". This camera can respect the frame entirely in the philological sense, or it can penetrate the depth of the frame for detailed observation of marginal zones of the image. It can respect the colour of the original toning, but it can also autonomously paint vast areas of film.
After three years spent re-
filming material, Gianikian and Ricci Lucchi had accumulated a mountain of film, they grouped the images under themes, the editing only began after they had done a great deal of preparatory work with notes covering hundreds of pages. The strategy developed by Gianikian and Ricci Lucchi involved working with and against the found footage in the Comerio archive. On the one hand, they reproduced images that Comerio had shot. On the other, they manipulated them to produce a new work of what MacDonalds called "critical cinema" consisting of a systematic critique of the original.