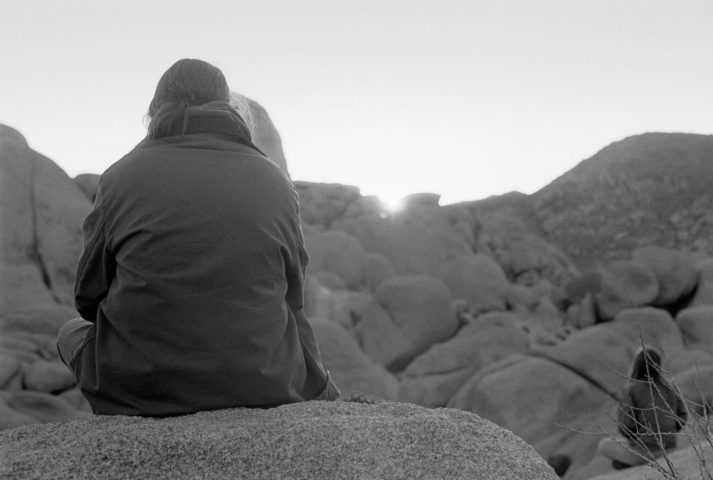 By repetition, you start noticing details in the landscape
Encounter with Daniel Weintraub (US) and screening of Deep listening : The Story of Pauline Oliveros, 2019
---
By repetition, you start noticing details in the landscape will take place from the 14th of December 2019 to the 19th of January 2020 at Le Commun (BAC) exhibition space in Geneva. With the exceptional participation of the American Composer Terry Riley , this interdisciplinary project presents artworks, films and archives of close to fifty artists from the 1960s to present day, gathered around questions of landscape, repetition and community.
Echoing the exhibition the Cinema Dynamo at the Centre d'Art Contemporain Genève will host a selection of films between essays and archives, experimental documentaries and artists' films, that review various ways of exploring, through cinema, the history of music and of listening. The program blends historical films (conversations of composer Robert Ashley with his peers Terry Riley and Pauline Oliveros in Music with Roots in the Aether, 1976) with contemporary ones (with the presentation of original excerpts of Daniel Weintraub's ongoing film, Deep Listening: The Story of Pauline Oliveros). In each of his films, the documentary and experiential dimensions meet, turning the act of listening into a way of immersing oneself in the matter and in history, and of blending together reality and imagination, information and sensation.
By repetition, you start noticing details in the landscape a proposal by MMMMM
Deep Listening: The Story of Pauline Oliveros tells the story of the iconic composer, performer, teacher, philosopher, technological innovator and humanitarian, Pauline Oliveros. She was one of the world's original electronic musicians, the only female amongst notable post-war American composers, a master accordion player, a teacher and mentor to musicians, a gateway to music and sound for non-musicians and a technical innovator who helped develop everything from tools that allow musicians to play together while in different countries to software that enables those with severe disabilities to create beautiful music. Director Daniel Weintraub will be screening a world premiere of excerpts from the film centered on Pauline's early career in San Francisco in the 1950's and 1960's.
Credits:
Written, Directed and Edited by Daniel Weintraub
Executive Producers – Pauline Oliveros and IONE
Permissions Courtesy of The Pauline Oliveros Trust and The Ministry of Maåt, Inc.
Members ASCAP