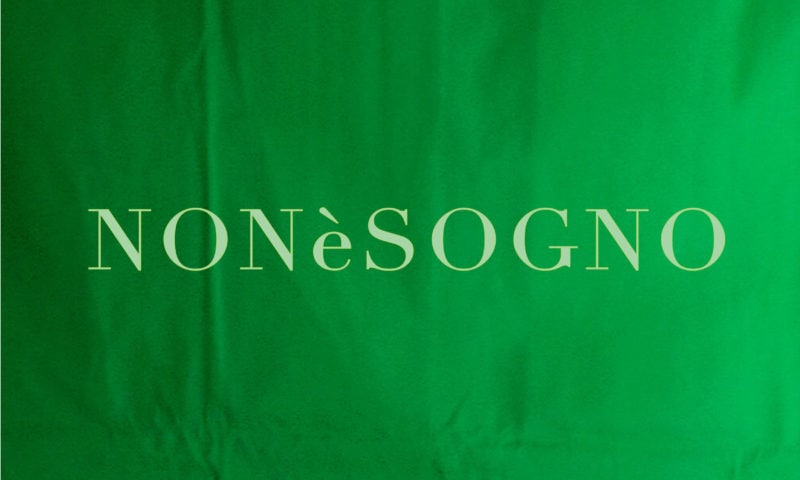 Giovanni Cioni
Non è sogno (Not a dream)
---
POSTPONED, NEW DATE TBC
---
The Centre d'Art Contemporain Genève is pleased to present Non è sogno, the latest film by Giovanni Cioni, which will premiere at the 2019 Locarno International Film Festival. A filmmaker of the "loss of landmarks", Giovanni Cioni makes unconventional films, in which his camera becomes an explorer, transforming the environment within his reach into unknown territory.
What do you feel inside yourself? That's the truth. But don't name it, because the moment you do, it will vanish. The performance of life. The world outside. Outside, in prison.
Inspired by Pasolini's Che cosa sono le nuvole and Calderón de la Barca's La vie est un songe, Non è sogno was filmed during a workshop with inmates of Perugia prison and adopts the theatrical game as a revelation of truth: A theme dear to Cioni's cinema, which has made obsession one of its stylistic hallmarks. Through ephemeral images and incidental sounds, he manages to capture the detachment of the psyche and builds a bridge between the experience of prison and the perception of the "outside".
Cioni's desire to construct an image through the word and the face of the speaker refers to the possibility of filming the visible in order to capture what is not visible. That is to say, filming the man to speak of humanity, filming the word to capture the thought, the body to glimpse the soul.
Luciano Barisone, Un cinéaste de l'invisible, for the Focus catalogue at Annecy Cinéma Italien.
Giovanni Cioni (1962), filmmaker, has lived in Paris, Brussels, where he studied, and Lisbon, Naples and Tuscany, where he currently lives. Among his films are Per Ulisse, awarded in 2013 at the Festival dei Popoli; Gli intrepidi (2012), presented in Venice at the Giornate degli Autori; In purgatorio (2010), selected and awarded at the Festival dei Popoli and at the Cinéma du réel festival; Nous/Autres (2003). In 2011, the Visions du Réel festival devoted a retrospective to his work. Non è sogno was also presented at the 60th Festival dei Popoli, where it received a special mention from the International Jury, and at the 44th International Laceno D'Oro Festival, where it was awarded the Laceno doc prize.
This evening is a prelude to the colloquium Editing Arts, organized by the Cinema Department of HEAD – Geneva on March 27th and 28th, 2020. A colloquium on editing in cinema and contemporary arts, Editing Arts aims to be both prospective and retrospective. Starting with the great figures of film editing, the speakers will be invited to discuss the mutations, alterations and developments that editing encounters today in the contemporary arts and what these arts can bring back to the field of cinema.