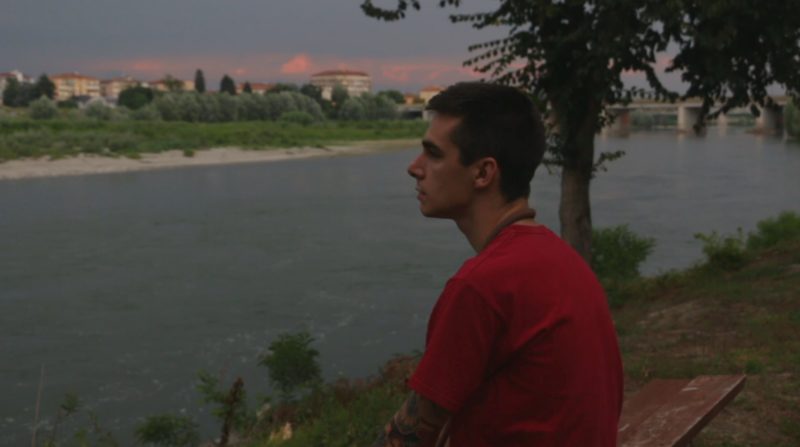 Jenna Hasse
Il Protagonista
Premiere in presence of the artist
---
The Centre d'Art Contemporain Genève is pleased to welcome filmmaker Jenna Hasse for the Swiss premiere of her film Il Protagonista at the Cinema Dynamo on Tuesday, August 31 at 6:30pm.
The capacity for the film premiere is limited, booking is recommdeded. Book your seat
The film will then be presented in a loop from Tuesday to Sunday (11am to 6pm), until September 12, 2021.
Il Protagonista
2020, 44 min
Italian (French subtitles)
It's summer in Casale Monferrato, a town in northern Italy. Luigi, 25, has just failed his law exam at the University of Turin. He gets a tattoo, he plays a role in a movie, but nothing seems to appease him. Only his walks with his dog Scarlett and his car trips where he raps and sings, offer him comfort. Between rage and tenderness, and at the dawn of having to make choices for his adult life, Luigi offers the portrait of a young man in today's Italy.
Jenna Hasse (b. 1989, Lisbon) is of Swiss and Portuguese nationality. She grew up in Switzerland and then studied in Brussels, where she graduated in 2014 from INSAS, acting department, and presented her first short film En Août at the Directors' Fortnight and received several awards in international festivals. She alternates her practice between acting in film and theater as well as directing. In 2016, she presented her short film Soltar at the FIFF Namur and at the Biennale de l'Image en Mouvement of the Centre d'Art Contemporain Genève. In 2020, her medium-length documentary Il Protagonista had its world premiere at Doclisboa and its Swiss premiere at the Centre d'Art Contemporain Genève. She is currently working on her first feature film, L'amour du monde. She has acted in short films including Sott'Acqua by Audrey Bersier, presented at the Festival Premier Plan in Angers, 2017 and On avait dit qu'on irait jusqu'en haut by Tizian Büchi, presented at the FIFF Namur in 2015, for which she won an acting award at the Sahar Int. Festival in England, 2016. She has acted in the feature films, La douleur by Emmanuel Finkiel and Mes provinciales by Jean-Paul Civeyrac, and more recently Schwesterlein by Stephanie Chuat and Veronique Reymond, or Foudre by Carmen Jacquier.
Cover image: Jenna Hasse, Il Protagonista, 2020 (still).