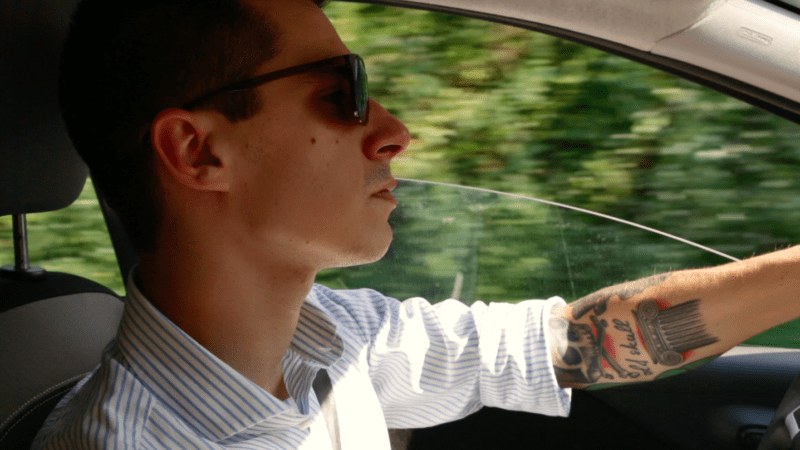 Jenna Hasse
The Protagonist
---
Swiss premiere in the presence of the artist
---
The Centre d'Art Contemporain Genève is pleased to welcome the Swiss premiere of the film The Protagonist, directed by Jenna Hasse.
It is summer in Casale Monferrato, a city in northern Italy. Luigi, 25 years old, has just failed his law exam at the University of Turin. He gets a tattoo, he acts in a film but nothing seems to appease him. Only the walks with his dog Scarlett and his travel in car singing and rapping offer him comfort. Between rage and tenderness and at the dawn of having to make choices for his adult life, Luigi offers a portrait of a young man from present day Italy.
Jenna Hasse is of Swiss and Portuguese nationality. She was born in 1989 in Lisbon and grew up in Switzerland. Graduated from INSAS in Brussels, department of dramatic interpretation, she now lives between Brussels and Switzerland.
Actress and director, she explores in her films the duality of her status and portrays the intimate through the lives of her protagonists. She is inspired, among other things, by her own story, man's relationship with nature, and the sensations and emotions it provokes.
In 2014, her first short fiction film En Août will be presented at the Directors' Fortnight.  In 2016, she completes her second short film Soltar presented notably at the FIFF Namur, at the Trophies of the French-speaking cinema, and at the Biennial of the image in movement of the center of contemporary art of Geneva in 2016.
As an actress, she plays in her films and in several short films including, On avait dit qu'on a dit qu'on va jusqu'à haut by Tizian Büchi, Box Production,Lausanne (Grand Prix at the Mons Love Film Festival, she won the prize for best actress at the Sahar Int Film Festival in England). She played in Emmanuel Finkiel's feature film La Douleur (Les films du Poissons, Paris) as well as in Mes provinciales (MobyDick Films, Paris) by Jean-Paul Civeyrac and recently Schwesterlein by Veronique Reymond and Stephanie Chuat (Vega Film, Zürich) presented in 2020 at the Berlinale.
In the theater, she is a member of the collective ASBL ASBL in Brussels, an experimental laboratory on comic theater and the absurd (Des hommes et des flics, Ténèbres Ténèbres).
She is currently finishing a first medium-length documentary film Il protagonista and she is preparing her first feature-length fiction film, L'Amour du Monde, produced by Langfilm in Zurich and Idéal Audience in Paris for which she received the SSA grant for writing assistance in August 2017 and the Swiss Media Development Aid in 2018.
Original Version: Italian (english subtitles), Colour, DCP, 44 min.
Production: DOK MOBILE, La Bête, Galão com Açúcar
Producer: Mark Olexa, Fabrizio Polpettini
Cinematography: Elena Hasse
Editing: Noémie Fy
Sound: David Cavallo
Sound Editing: Balthasar Jucker