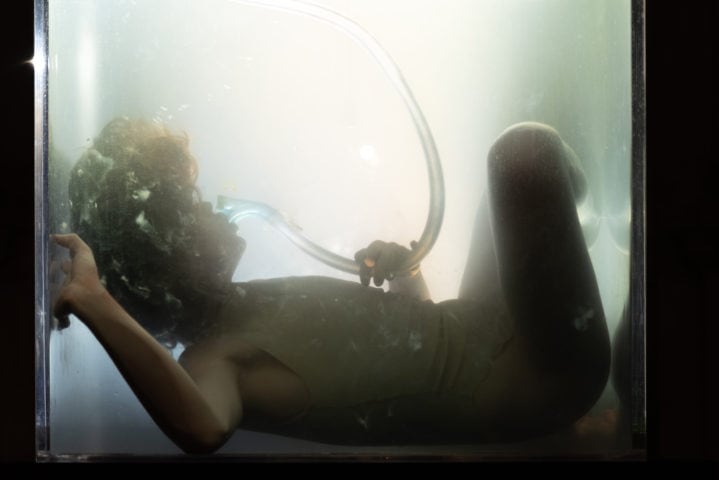 Agnes Questionmark
Falling in Water
---
The Centre d'Art Contemporain Genève presents Falling in Water, a performance in which the spectator is guided through the discovery of a post-human, hybrid being whose body is resting underwater and waiting to be born. The amphibian potentialities of the human being is expressed in radical evolutionary theories such as 'the homo aquaticus' by Jacques Costeau and the anti-darwin theories by biologists such as A. Hardy and Elaine Morgan. Evolution is a never-ending process which is always subject to transformation and mutation.
Bodies are fluid, and through constant liquid exchange they inhabit other bodies from around the planet. This hydrological cycle has no hierarchy, it is a constantly wet exchange from the depths of the ocean to the reservoir of the cities. It is not only a question of displacement of water but also of fragmentation of time, which starts from the very early stages of cellular developments.
The performance will take place at 6.30, 7.30 and 8.30 (no booking necessary).
Agnes Questionmark (Rome, Italy, 1995) lives and works in New York City. She defines herself as a "trans-species" artist and her work seems to embody the literal and most profound meaning of the Latin prefix trans, which indicates a crossing, a change from one condition to another, a moment of passage. Performance is the artistic idiom that best expresses the tension of this condition of ongoing metamorphosis, and constitutes the common thread of Questionmark's output, together with the aquatic element and underwater imagery. The profound link with the sea has its origin in the artist's childhood, during which she grew up on a boat with her father. Here, she discovered a "comfort zone" in the cocoon-like underwater atmosphere, symbolically assimilable to the amniotic fluid of the womb—a protected environment in which the body is ideally reconnected to its origin, when it is still open to myriad possibilities of development. Algae, coral, mollusks and hybrid creatures—sea monsters inspired by medieval iconographies representing lands shown as terra incognita on maps—take shape in her pottery and resin sculptures, and in the environmental installations. These recreate the richness of the shapes and colors of the ocean floor, and which often serve as backdrops to her performances.
Photo: Eleonora Cerri Pecorella