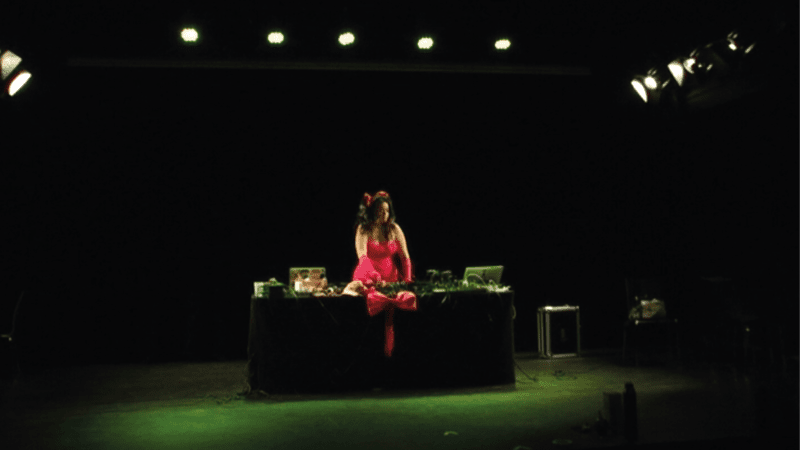 Marara Kelly Art Show: I came all the way here now you have to dance
---
As part of the exhibition Chrysalis, the Centre d'Art Contemporain Genève presents a party and performance by Mayara Yamada and Ursulina de Lombardia on Saturday, January 28, 2023 at the Fonderie Kugler .
The Marara Kelly Art Show: I came all the way here now you have to dance is the fourth episode of the Marara Kelly Art Show performance series: a self-mythology that mixes aspects of Brazilian and Amazonian culture, religious and profane aspects led by Marara Kelly, an enchanted being of the party, pleasure and childhood dreams. For this new performance Marara Kelly presents herself as a singer who premieres her concert during a party, an epic evening where she is at the same time host, DJ, MC, popstar.
Marara Kelly with DJs Cigarra, Bone Black and João Lagrima de Ouro tell the story of the process that happens between the body that starts the party and the one that ends it: exploring the polyrhythmic, fragmentary, non-logical experience of metamorphosing -collectively – while partying. The artists invite the audience to integrate a dance-floor as a stage for the transgression of ordinary identities, where the night is a driver of metamorphosis and the party, taking into account the notion of the event as a catalyst of transformation, as a rite of passage between the night and the day, the being of yesterday and the one after the experience.
Mayara Yamada and Ursulina de Lombardia have been working together since 2018. Their paths have crossed between Europe and Latin America, between video and performance. They have presented several projects made together, experimented with different forms of crossing and dialogue always mixing their discourses, practices and aesthetics.
In 2021, Mayara proposed to Ursulina to co-direct the second performance of the series, Marara Kelly Art Show: I dreamed I could explain to you who I am, presented at the Arsenic (Lausanne) as part of Lemaniana Performances. They then decided to continue the collaboration for the fourth and fifth episodes of the Marara Kelly Art Show
LINE UP
23h-00h30
Bone Black (DJ set)
00h30-1h30
Cigarra (DJ set)
1h30-2h30
Marara Kelly & Cigarra (performance)
2h30-4h
João Lágrima de Ouro (DJ set)
04h-05h
Marara Kelly (DJ set)
05h-6h
B2B
A co-production by the Centre d'Art Contemporain Genève, Arsenic and Abri, with the support of FCAC, DCS, Geneva
Location: Fonderie Kugler, Avenue de la Jonction 19, 1205 Genève
Image: Rehearsing the Marara Kelly Art Show, 2022, Geneva. Photo: Ursulina de Lombardia