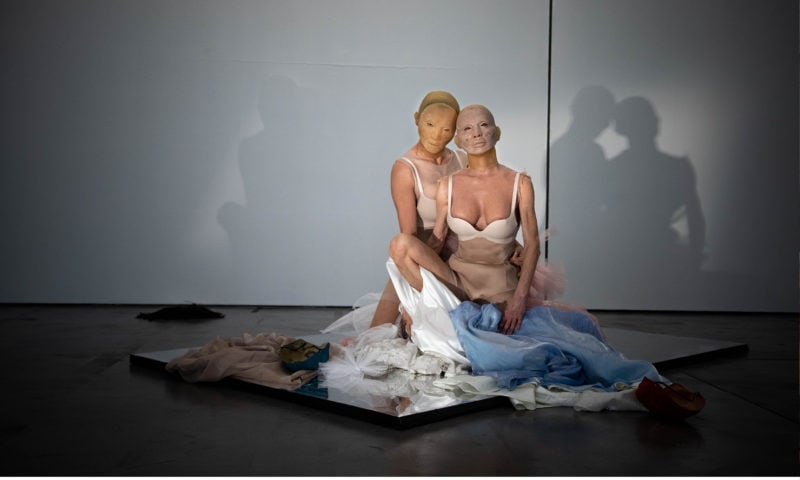 ECLIPSES
Glitters of Darkness
---
Nagi Gianni & ReveRso & Yotta Baka
---
ECLIPSES is a performance by Nagi Gianni & ReveRso & Yotta Baka, premiering on Saturday, May 13 at 7pm at Flux Laboratory in the context Chrysalis.
The project summons a poetic and subversive body, grotesque and contemporary, which confronts the norms and embraces self-deprecation to denounce the dysfunctions of a society adept at "smoothness" and transparency.
By its irregularities, its faults, its opacities, this figure provokes its environment in a new and incongruous dialogue with invisible, devious forms. Deeply sensitive, it is simultaneously a supernatural and concrete presence. Its posture of resistance and provocation is founded on the aesthetics and politics of Camp and Freak with their strategies of unnaturalness and denormalization, through artifice, distortion, and exaggeration.
The nocturnal face of this figure, a sort of black sun, will be regularly hidden, revealed, illuminated, blinded by the appearances and disappearances of the two performers of ECLIPSES. Through their successive metamorphoses and the exultation of their bodies, they escape from this movement that perpetuates itself without beginning or end, consuming itself without respite. The performance will evolve from interactions between these two rhythms, simultaneously antagonists and accomplices.
Duration of the performance: 1 hour
The presence of strobe lights during this performance can trigger epileptic seizures in sensitive people. A scene of nudity is also not recommended for young audiences.
The multidisciplinary artist Nagi Gianni (b. 1991, Zurich) has developed a sculptural language based on the body as a medium to be transformed in order to sound out other possibilities, to explore other bodies through its metamorphoses. In his performances, the costumes and masks, gestures and movements of the performers are intended to transmit to the audience their inner tension concerning a multiplicity of existences, in opposition to the idea of closed and immutable identity. The peculiar masks created by Gianni combine human and animal traits, elements of fantasy and mechanical prosthesis, making the body a hybrid, caught between cyborg, oneiric creature and primitive being. During his studies of Visual Arts at HEAD – Genève, Gianni participated in dance workshops and collaborated with various choreographers and directors, and this propensity towards partnership remains a feature of his current output. It is in the continuity of this collaborative dimension that he invited, for this new project, the performer, actress and director Yotta Baka (b. 1953, Geneva)—who in 2002 founded the independent and multidisciplinary theater company Cie Folledeparole in Geneva—and ReveRso, a performer and savage cult nightlife figure, with whom he collaborated on a series of masks inspired by plastic surgery, to exalt an idealization of the face to monstrous drifts. Under the name Glitters of Darkness, the trio established a workshop dedicated to the production of a series of performances focusing on the body and in which every component––props, masks, costumes, gestures––is conceived as an interchangeable piece within a continuous process of metamorphosis.
A multidisciplinary performance co-produced by Cie Folledeparole, Cie HYENA and the Centre d'Art Contemporain Genève in the context of the exhibition Chrysalis: The Butterfly Dream and Fête de la Danse.
With the support of Ville de Genève, Loterie Romande, la Fondation Ernst Göhner and Flux Laboratory
Residencies: TU – Théâtre de l'Usine, Grimm Museum, Flux Laboratory, Fonderie Kugler
CREDITS
Production: Cie Folledeparole / Cie Hyena
Executive Production: Ars Longa
Coproduction: Centre d'Art Contemporain Genève
Creation, masks, costumes & scenography: Nagi Gianni
Creation, performance et choreography: Isabelle Chladek, ReveRso
Soundscape: Mad Kate
Lights & sound spatialization: Thibault Villard
Photo: Kleio Obergfell