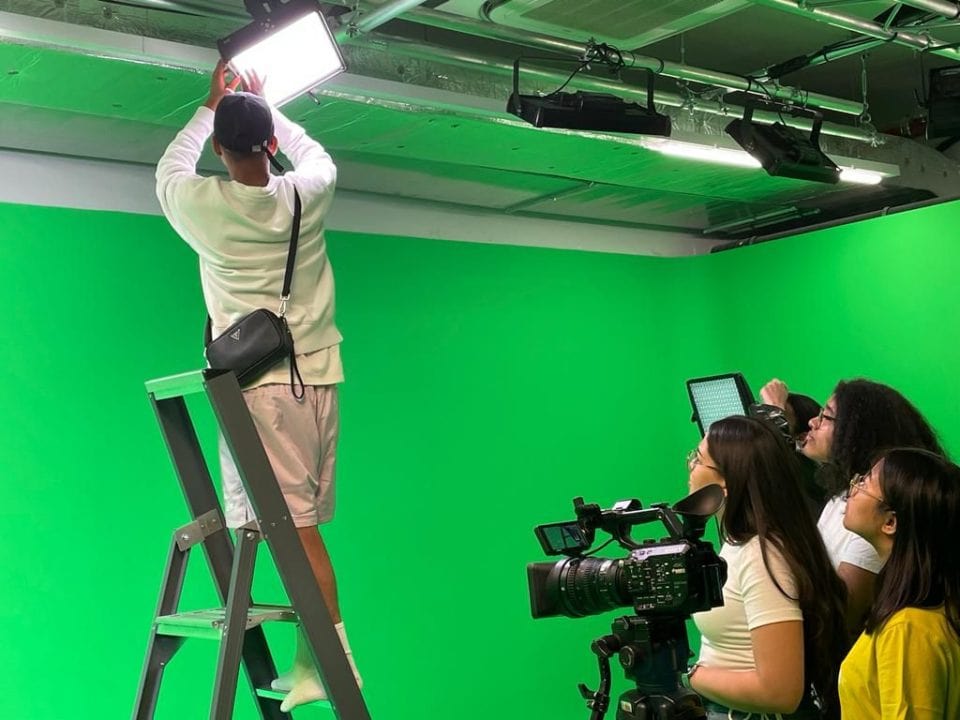 Cinema Dynamo
Screening of Porte Interdite
---
The Centre's team had the pleasure of collaborating with the Microsillons project and class 308 of Access II, accompanied by their dean, as part of the first iteration of the Moving Pictures Academy program led by the education team.
The genesis of this project is rooted in the visit of class 308 to the Center to experience the Biennale de l'Image en Mouvement (BIM'21).
After watching the artists' films, the idea emerged to collectively think about and create a film, including all the steps involved in its production.
Starting with a single question; " where do we find strength and motivation?". Nini, Erza, Michaella, Jenifer, Keynis, George, Yasin, Tenzin, Kevin, Nikoloz, Esteban initiated a process of writing, then directing, a shooting in the green room of the HEAD which resulted in the creation of a film, which will premiere in the Cinema Dynamo at the Centre.
about Microsillons —
Created in 2005 in Geneva by Marianne Guarino-Huet and Olivier Desvoignes, the microsillons collective develops collaborative artistic projects engaged in social and civic reflection, based on strategies borrowed from critical and feminist pedagogies.
The collective has collaborated with numerous cultural institutions including the Garage (Moscow), the 116 – contemporary art center (Montreuil), VANSA (Johannesburg), the WYSPA Institute (Gdansk), the Contemporary Art Center of Parc St- Léger or the Center for Contemporary Art Geneva, where he was in charge of mediation projects between 2008 and 2010. Since 2015, microsillons has been responsible for the Master TRANS – Socially Engaged Art Practices, at HEAD — Geneva.
microsillons has participated in several research projects supported by the Swiss National Science Foundation; the duo won a Swiss art (2008) and a grant from the City of Geneva (2007).
---