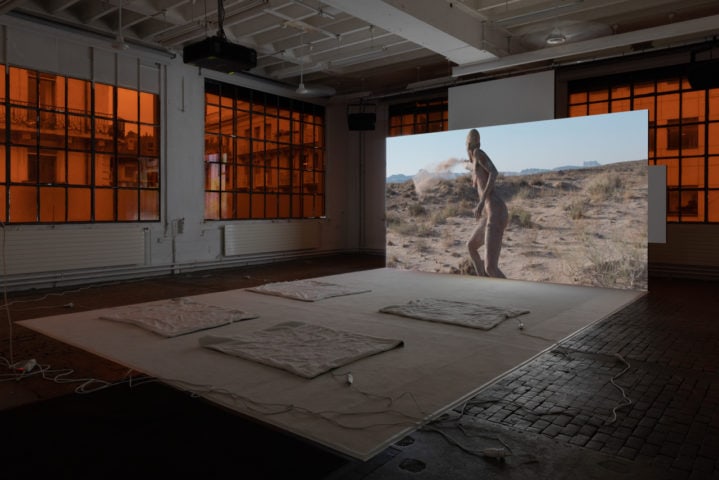 Special Guest visit with François Bovier
Exhibition practices of the moving image
---
For the last 'Special Guest' visit organized around the Biennale de l'Image en Mouvement 2021, the Centre invites François Bovier.
What are the issues related to the exhibition of film and video? How does the more "democratic" circulation and consumption of moving images impact our relationship to the device? How is the relationship to images evolving in everyday life?
This month's special guest, François Bovier, attempts to answer these questions in conversation with Sofia Kouloukouri. This commented tour conducted in French will focus on the singularity of exhibition contexts and their impact on the conception of an artwork. It also looks at experiments carried out in alternative contexts and how these approaches raise both museographic and ideological or political questions.
François Bovier is a lecturer and researcher in the History of Cinema Section at the University of Lausanne (UNIL) and a research fellow at the Ecole cantonale d'art de Lausanne (ECAL). He is co-founder of the journal Décadrages and co-director of the collection PlanSécant (MetisPresses). Author of H. D. et le groupe Pool : des avant-gardes littéraires au cinéma "visionnaire" (L'Âge d'Homme, 2009), he has published numerous articles on experimental cinema, artists' films and militant practices in academic journals and collective works.
Booking advised through the following link: https://my.weezevent.com/visite-special-guest-avec-francois-bovier
Cover image: DIS, Everything But The World, 2021. Courtesy of the artists and Centre d'Art Contemporain Genève. Photo: Cynthia Mai Ammann