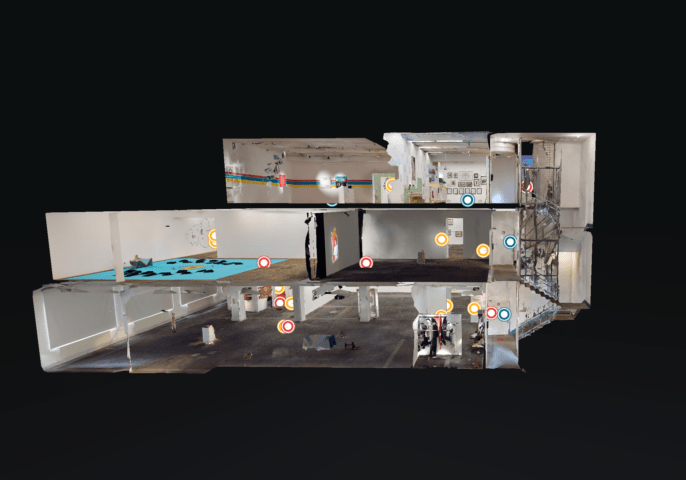 Chiara Fumai
Visit the exhibition virtually
---
In these uncertain times, The Centre d'Art Contemporain Genève is pleased to offer a virtual alternative to explore the exhibition Poems I will Never Release, 2007–2017, the first retrospective dedicated to Italian artist Chiara Fumai (Rome, 1978 – Bari, 2017). The exhibition is curated by Francesco Urbano Ragazzi and Milovan Farronato in collaboration with Andrea Bellini.
Three years after the artist's untimely death, a group of institutions has gathered around her estate in order to deepen her legacy and transmit her extraordinary work to a broader public. With its wide selection of artworks and documents, this retrospective tries to capture what Chiara Fumai loved to call her "unwork," a ten-year performative production that goes well beyond the performances for which she was best known.
Thanks to a faithful digital reconstruction of our spaces, the exhibition remains virtually accessible, despite the current closure of the Centre d'Art Contemporain Genève. It allows you to navigate through the works of the artist, while discovering videos and explanatory texts throughout your visit. This exhibition will be presented at Centro Pecci, Prato (Spring 2021), La Loge, Brussel (Autumn 2021) and La Casa Encendida, Madrid (2022).
To complement your visit, watch a presentation video of Chiara Fumai and the feminine figures to whom she gave a voice through her work. Directed and narrated by Sofia Kouloukouri (artist and mediator at the Centre), this video dives into the feminine figures who marked history and inspired Chiara Fumai. Despite their strength and anger, these women have been either marginalized or forgotten. Among many others, the bearded woman Annie Jones, the "Circassian beauty" Zalumma Agra, the German terrorist Ulrike Meinhof, the illiterate medium Eusapia Palladino, or the feminist writer Carla Lonzi ­– all punctuate the work of Fumai.
The 360° visit can be discovered here