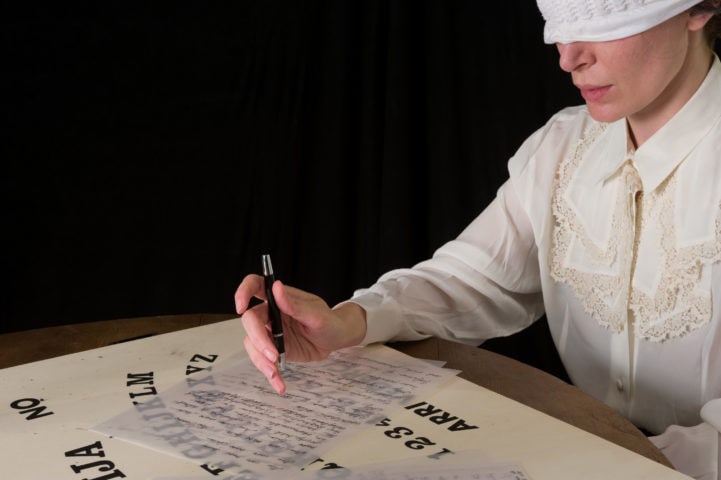 Chiara Fumai
Poems I Will Never Release, 2007–2017
---
Curated by Francesco Urbano Ragazzi and Milovan Farronato in collaboration with Andrea Bellini
---
In November, 2020, the Centre d'Art Contemporain Genève proudly inaugurated Poems I Will Never Release, the first retrospective of the oeuvre of Chiara Fumai (b. Rome, 1978–d. Bari, 2017). The exhibition is curated by Francesco Urbano Ragazzi and Milovan Farronato in collaboration with Andrea Bellini.
Three years after the artist's untimely death, a group of institutions has gathered around her estate in order to deepen her legacy and transmit her extraordinary work to a broader public. The exhibition will travel for the next two years, making available its decisive investigation of a creative personality who markedly developed the languages of performance art and feminist aesthetics for the twenty-first century.
Poems I Will Never Release gathers together an almost complete selection of artworks that translates and elaborates into material form the elusive performances that Chiara Fumai herself intentionally and consistently declined to document.
Ever refusing to be victimized, minoritized, or diminished as a female artist, Fumai adopted the vocabulary of threat, offence, revolt, vandalism, violence, and boredom to produce uncomfortable situations, collages, environments, and actions in order to foster her ideals of anarchist feminism. Playing an ironical game of "true fiction" and using the techniques of remixing and channeling, Chiara Fumai's performative pieces evoke female figures who, with their courage and anger, left their mark on human history just before being excluded or forgotten. These include Annie Jones, the "bearded lady" who toured with P.T. Barnum; Zalumma Agra, who posed as a "Circassian beauty" in one of Barnum's displays; the German terrorist Ulrike Meinhof; the illiterate Italian spiritualist and medium Eusapia Palladino; the philosopher and socialist revolutionary Rosa Luxemburg; the feminist writer Carla Lonzi; and many other personalities. This remarkable and peculiar gallery of portraits included a few male characters as well, like the illusionist Harry Houdini. Not to be forgotten is Nico Fumai, the first of Chiara Fumai's fictional personas and unique in having a biographical origin. With him, Fumai not only imagined a new profession—that of a singer—for her father but also used her interest in 1980s Italo Disco as a strategy for interpreting a specific historical era as well as bringing together a number of different fields of research.
Two domestic spaces that marked Fumai's career will be also exhibited. The first one is The Moral Exhibition House, an environmental installation being recreated for the first time since its display at documenta 13 in Kassel (2012). The house is a space of feminist insurrection disguised as the domestic location of a freak show. The second installation—a house museum—reproduces a room of the Milan apartment where the artist lived crucial years of her adult life. The environment, an ironical self-celebration Fumai planned for a future retrospective, now contains a selection of stage clothes, props, books, and vinyl records. All these research documents come from the artist's archive, a portion of which was secured in Bari by The Church of Chiara Fumai (the organization charged with preserving the artist's memory and estate) and a portion of which was donated to the Castello di Rivoli – Museo d'Arte Contemporanea in Turin.
As when Chiara Fumai received the Furla Art Award in 2013, the present retrospective will feature I Did Not Say or Mean "Warning", a work that channels the spirit of an anonymous woman guiding the viewer through the historical art collection of the Querini Stampalia Foundation in Venice. It will display Fumai's fictional propaganda for Valerie Solanas's S.C.U.M. Manifesto, mirroring the first campaign of Italian politician Silvio Berlusconi (Chiara Fumai reads Valerie Solanas). It will also include The Book of Evil Spirits (2015), a video installation produced for CONTOUR 7 – A Moving Image Biennale in which the artist documented a series of séances held by Eusapia Palladino and retrospectively rewrote the story of Palladino's live acts. Wall drawings will further represent Fumai's interest in mediumistic experiences and black magic, including This Last Line Can Not Be Translated, which was produced by the artist for the Premio New York, which she won in 2017 and which was posthumously presented at the 58th Venice Biennale in 2019.
With its wide selection of artworks and documents, this retrospective tries to capture what Chiara Fumai loved to call her "unwork," a ten-year performative production that goes well beyond the performances for which she was best known. The exhibition title is drawn from an unfinished sculpture, the artist's last self-portrait: a puppet in a t-shirt with the motto Poems I Will Never Release. While the phrase might seem melancholy—evoking what might have been had the artist lived longer—it actually states a matter of fact. Fumai based her work on performing words written by others. She herself never composed poems; instead, she channeled the words of others, women who needed revenge and historical recognition. This retrospective is not only dedicated to Chiara Fumai but to those who came before her.
This exhibition will be presented at Centro Pecci, Prato (Spring 2021), La Loge, Brussel (Autumn 2021) and La Casa Encendida, Madrid (2022).
A first major monograph of Chiara Fumai's work will accompany the retrospective. The volume, published by Nero Editions, will include essays by Irene Aristizabal, Andrea Bellini, Federico Campagna, Milovan Farronato, Gabriel Lester and Raimundas Malašauskas, Chus Martinez, Mara Montanaro, Cristiana Perrella and Marcello Bellan, Francesco Urbano Ragazzi, and Giovanna Zapperi. The publication is supported by the Italian Council program (7th Edition, 2019) for promoting Italian contemporary art in the world by the Directorate/General for Contemporary Creativity of the Italian Ministry of Cultural Heritage and Activities and Tourism.
Cover image: Chiara Fumai, The Book of Evil Spirits, 2015. Film still. Courtesy the Church of Chiara Fumai