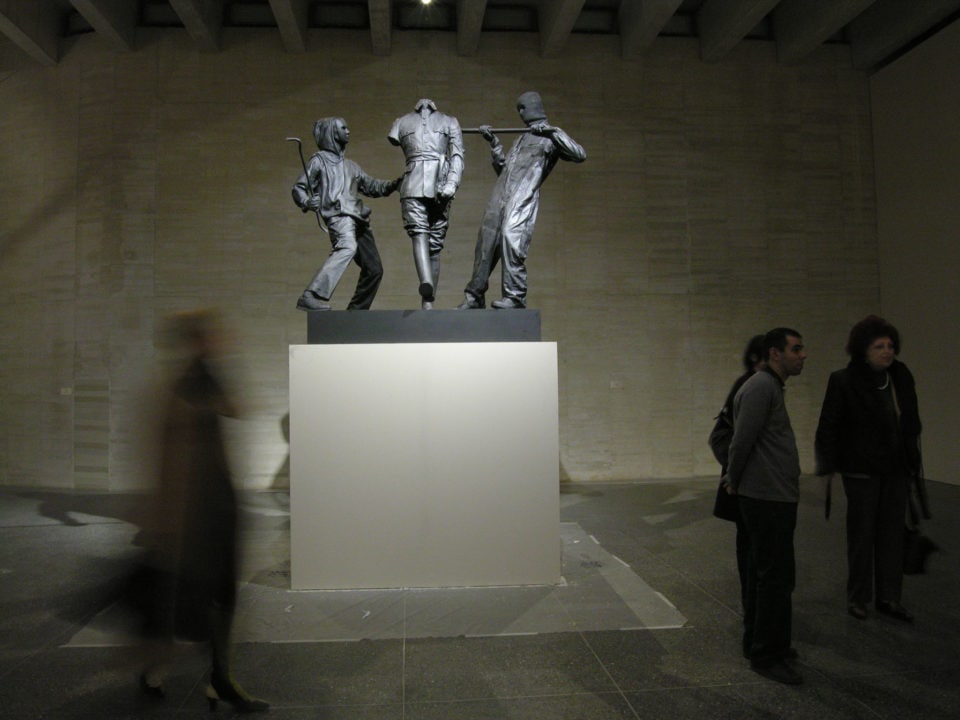 Fernando Sánchez Castillo
Parti de la Peur
---
The Centre d'Art Contemporain Genève is proud to present the première in Switzerland of Spanish artist Fernando Sánchez Castillo.
Fernando Sánchez Castillo studies the relation between art and power, between history and politics, between public space and collective memory. Part of a generation characterized by idealist scepticism, and post-heroic aesthetics, the artist is interested in finding a viable place within the social and artistic community of today, for the notions of utopia and revolution. The exhibition presents recent and specially made works, including a large painting, a video, twelve sculptures from two different series, a monumental bronze and a series of ninety-five drawings.
All the works presented in "Parti de la Peur" carry traces of wars and/or revolt, either referring to authentic historical events like the Spanish Civil War, or by evoking an "average" conflict situation like a dictatorship's fall. The artist's sculptures challenge the notion of monument and make its inherent violence visible, perfectly illustrating the words of German philosopher Walter Benjamin who said that "there is no document of civilization which is not at the same time a document of barbarism" (in "Theses on the Philosophy of History", 1940). These sculptures figure monuments of a different type, as they cannot be reduced to the symbols of a specific political cause, but rather synthesize a social tension between different forces and ideologies. The monumental bronze "Narón 2003" is based on a photograph showing two independentists attacking the statue of Franco in its village of birth; here the rebels – along with the sculpture they are damaging – form together a new whole monument, each posture being somehow raised to the same symbolical level.
Also reversing the expectations, the series of reduced scale projects for public sculptures ("Notes for the Aesthetic Education of the Bourgeoisie", 2004) express ideas of ruins and desolation, instead of the idealisation of a bright past or future.
The monument series (including "Felipe IV"; "Felipe III"; "Fuente de Apolo", 2006) consists of seven meticulously created models of the brick structures commissioned by the Republican Government to protect Spanish historical monuments from the damages of Nationalists attack on Madrid during the Spanish Civil War (1936-1939). The models act not only as testimonies of a darker side of history, but also show a symbolic superimposition of historical layers, as these classical monuments happened to be protected by temporary structures with singular modernist aesthetic qualities, against fascist forces self-proclaimed as the defenders of secular traditions. Referring to the same historical context, the monumental painting "Children playing at war after A. Centelles" (2007) is based on a photograph of young children enacting a shooting scene, evoking the famous history painting "The Shootings of May Third 1808" (1814) by Francisco Goya.
Curated by Katya García-Antón