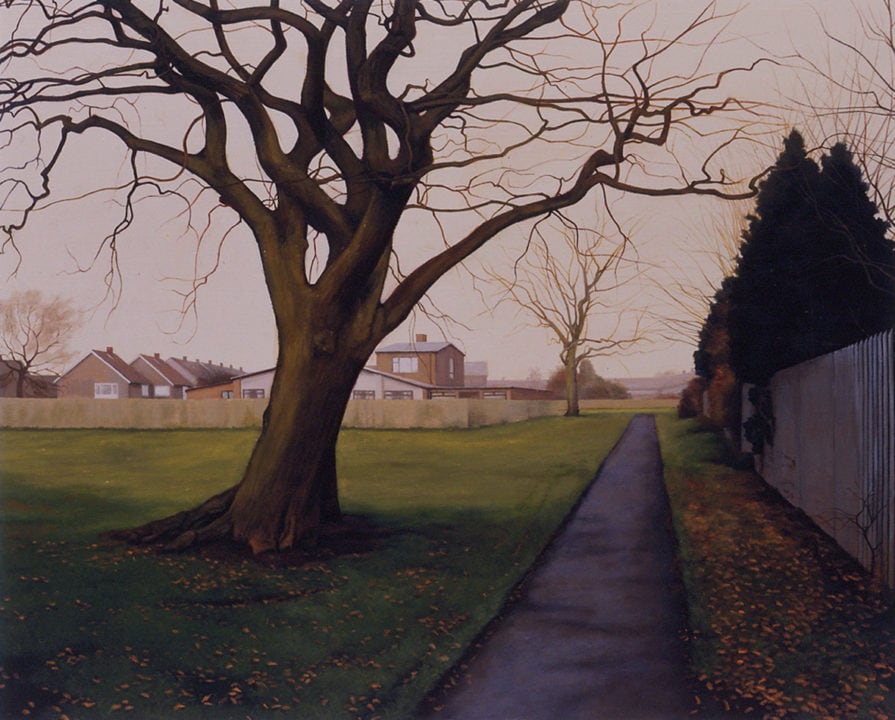 ---
The Centre d'Art Contemporain Genève is proud to present the first international solo exhibition of British artist GEORGE SHAW. This exhibition includes a new series of paintings, a selection of drawings – amongst a huge body of works that the artist has never presented in public – and a new performance.
Shaw's paintings reveal an undoubted fascination with Englishness. He is an artist around whom the mythologies of popular english culture – his drawings of darkly iconic figures such as Peter Sutcliffe, or scatterings of old pin-up magazines – seem to form an accretion which informs but doesn't direct his eye as a painter. And yet his art also describes a broader modern European world.
The artist's works are based on photographs of the working class suburbs. These photographs are often by the artist and his family, or derived from local magazines. His suburban landscapes, such as council houses, rows of garages, shabby parks and recreation grounds, involve the meticulous application of Humbrol enamel on board, a painstaking process which produces seductive, glossy, highly detailed images. Unashamedly nostalgic, the loaded atmosphere captured by the artist in his canvases are at once compelling and uneasy. His work at times pay homage to Kitchen Sink cinema – the British social realism of the late 1950s and early 1960s – updated and de-politicised.
Shaw's first painting was made in 1996, and it depicted a shop. Since then he has produced dozens of paintings. They project the collective memory of a specific period in English urban development, into our present world to create images which are both familiar and eerie, serene and anxious. The 'new towns' such as Coventry or Milton Keynes constructed particularly during the 1970s, attempted to launch the country into a new future, far from the destructive bombing endured during the second world war. However, they could just as well be draw from any number of residential landscapes around central France or the suburbs of Moscow. Shaw suppresses any clues as to a particular time and place in his paintings, such as cars and posters. He plays games with time, hinting at some unspecified past and a recognizable present, in the sense of the contemporary as the accumulation of its past.
Like the Victorian colourist Atkinson Grimshaw, George Shaw is above all attuned to the refinement of light. The meticulous application of Humbrol enamel paint achieves an extraordinary luminescence with its accumulated mood, which is both elegiac and anticipatory. His paintings articulate a tension between sunshine and rain, dusk and day, shadow and luminosity, in a way which brings forward a primary role of landscape as a mute witness – an amoral, indifferent environment. Shaw's paintings describe the imprint of time and place when the experience of nothing happening becomes its own event. The banality becomes ceremonial, within their stillness, these scenes from suburbia present their world as it may appear to ghosts: there is a presence of death in these prosaic places, as death might be described by absence.
GEORGE SHAW was born in 1966 in Coventry. In 1986 he studied Fine Art at Sheffield Art College. After a period of time as a medical photographer and a teacher of children with special needs he came to London to do an MA in Painting at the Royal College of Art. The artist has exhibited most recently in group shows in Athens ('Brittania Works' curated by Katerina Gregos) and City Art Gallery Prague ('Other Times' – British Contemporary Art). His work was included in Tate Britain's 'Days like These' and 'Art of the Garden'. A solo show of his work initiated by the Ikon Gallery, Birmingham recently toured to two major venues in the UK.
Curated by Katya García-Antón. This exhibition will travel to the Kunstverein Freiburg, Germany, opening on 26 January 2007.
Cover image: George Shaw, Four Years: Tea Time, 2005. Private Collection. Courtesy Wilkinson, London.