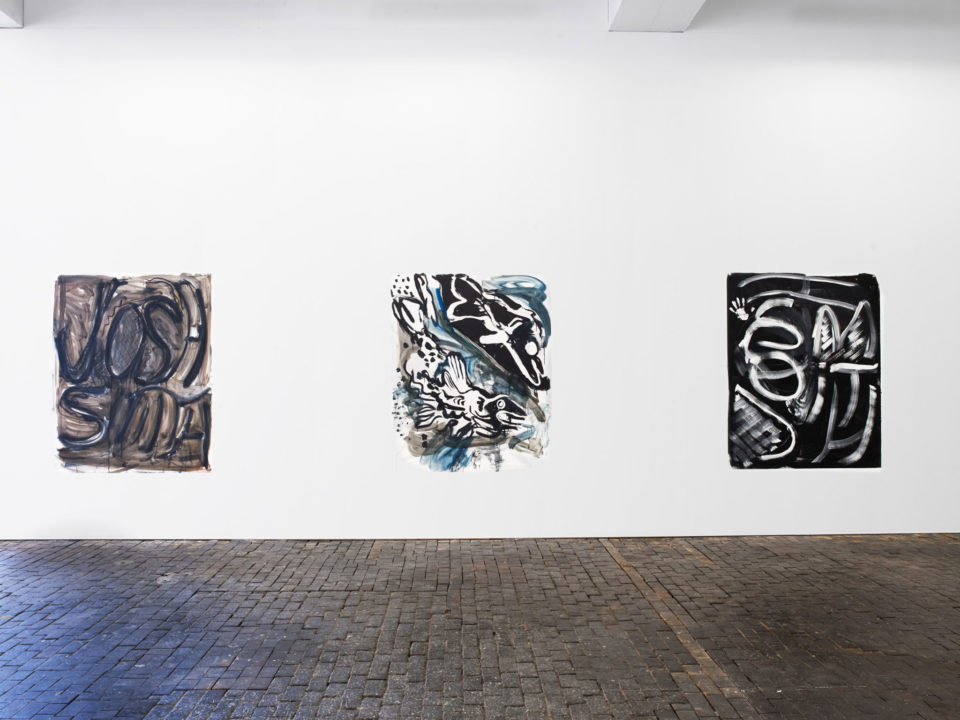 ---
The Centre d'Art Contemporain Genève is proud to present the first institutional solo show in Switzerland of American artist Josh Smith.
Smith reworks the central myths and clichés of modern painting echoing in the process the vitality of an expressionist mode of working as well as elements of appropriation art and institutional critique.  The artist is remarkable for creating situations in which an excessive flood of visual information (from the multitude of works he creates) is offered to the viewer. In this overwhelming visual mass, he brings together the various genres of painting that he has created over the last few years: the "name paintings" in which ever new variations of the commonplace name Josh Smith serve as the motif for the pictures; the "palette paintings" on which he mixes the pigment for his pictures; the "announcements" that are simultaneously posters for the artist's shows; and finally the "collages" in which found materials such as posters, newspaper clippings or maps are melded on top of each other together with his own drawings and prints. In this crossover, subjective experience and external living conditions become woven together on the surface of the picture.
Smith makes collages in large series. In the frame of his exhibition at the Centre d'Art Contemporain Genève, he will present a new series of more than 100 collages on cardboard. He works with the speed of the sketching, in a way which reveals his painting and thought process. The spontaneous ideas that he develops, affect changes of meaning and reveal mistakes as well as (apparently) wrong directions. One wonders whether his abundance of production is meaningful or simply superfluous visual noise, and this is part of the uncertainty he seeks. Smith's recourse to an expressionistic formal idiom differs fundamentally from the rhetorical and ironic paintings of the 80s. Instead his work is full of emotionally charged moments which, as the artist explains "you can't see but can feel".
Josh Smith was born in 1976 in Tennessee, USA. He lives and works in New York. His various exhibitions include a group show in Kunsthalle Zurich (2007) as well as his first European solo show that took place in MUMOK Vienna (2008).  Josh Smith was recently selected by the New Museum, New York to participate to the exhibition Younger than Jesus, which will bring together some of the most promising young artists around the world. Josh Smith is represented by Galeries Eva Presenhuber, Zurich and Luhring Augustine New York.
Curated by Katya García-Antón