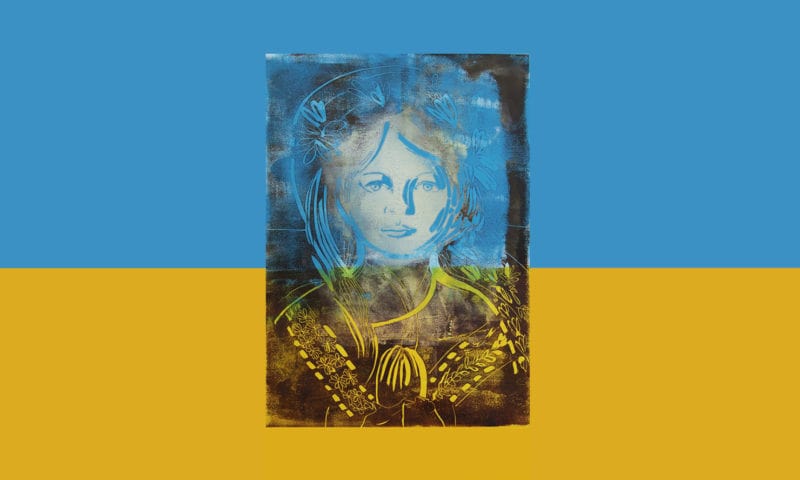 Born to Be Free
A residence of Ukrainian artists
---
The Centre d'Art Contemporain Genève is pleased to present the exhibition Born to Be Free, a project by a collective of young Ukrainian artists in residence at the Project Space.
Since the month of April, the Centre has welcomed a group of artists for a residency in the 4th floor spaces. After a few weeks of work, the artists Geulla Bogoradova, Avviva Bogoradova, Rufina Bogoradova, Avvia Gor and Oksana Cantelmo are presenting an exhibition of paintings and serigraphy. Their aim to raise awareness on the terrible ongoing events in Ukraine.
The artists' dream is to revive Ukraine on the basis of democratic values and an ecological approach to all spheres of life. For this exhibition, they closely collaborate with Solar Universe (Сонячний Всесвіт), a charitable foundation whose diverse programs aim to inspire compassion, responsability and solidarity. Their team therefore currently actively works to provide humanitarian assistance and shelter to groups and individuals affected by the war. During the opening, the artists will sell an edition in order to raise funds.
More information about the foundation is available on the following website: sunvsesvit.com
This residency was possible thanks to the support of the Association des Amis du Centre.
Find below other useful links :
http://www.solidariteukraine.ch
https://www.ukredu.org/supportukrainenow
https://don.bonheur.ch/Ukraine2022/ (Chaîne du bonheur)