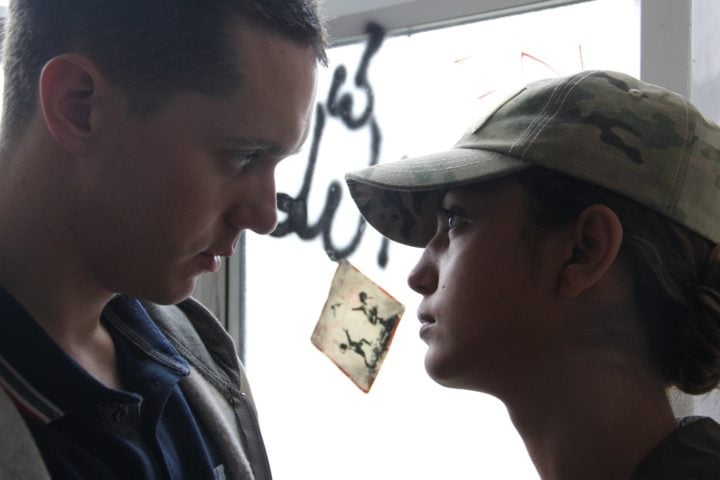 Seemab Gul
Three sociopolitical short films
---
The Cinema Dynamo is proud to present a program of three short films by London based artist and filmmaker Seemab Gul. Gul's films interweave documentary, fictional, and performative elements to explore social-political stories. Her work is interdisciplinary, immersed in the current political dialogue, examining conditions of precarity in society and focusing on the outsider experience.
Towards a Militant Conceptualism
2013, 13 min, b&w film essay (in collaboration with Mike Watson)
Towards a Militant Conceptualism is a short hybrid film dealing with the political capacity of art in the contemporary world. The film explores the artist's experiences of protest, confronting agents of the State and questioning the origins of law. This short-film is an open argument on political activism and its effectiveness with the proposition of art as a form of protest.
One day in Whitechapel
2015, 13 min, color drama
Two teenagers start their day on the opposite sides of the barricades during a racist demonstration. When Sam watches her friends beat a young skinhead, instead of joining the fight, she saves the boy. An unlikely friendship sparks when the two teenagers hide in a shed.
Metaphysiques
2015, 3 min, color art film
Entangled bodies of ambiguous gender are engaged in combative exploration of each other's boundaries. The work aims to challenge preconceived notions of femininity, power, strength and heroic eroticism.
Seemab completed a BA in Fine Art at Surrey Institute of Art & Design in 2001. After doing a PACE course in Visual Anthropology at Goldsmiths, she completed a Masters in Filmmaking at the London Film School in 2010. She was a fellow at the National Film & TV School Film Clinic in 2013. Her 16mm films and videos have been screened and exhibited at a fringe event of 55th Venice Art Biennale, Oberhausen Film festival and other galleries and festivals internationally. Her works have been commissioned by Arts Council England, CBA WoldView, The Foundling Museum and Moti Roti Foundation.
Curated by Mike Watson