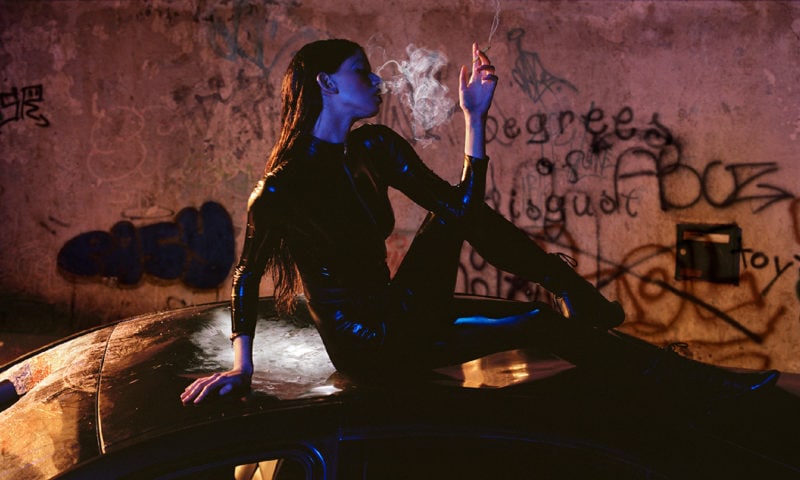 Will Benedict
Degrees of Disgust
---
The Centre d'Art Contemporain Genève is pleased to present the world premiere of Degrees of Disgust (2019), Will Benedict's latest video. Co-produced by the Centre and Unemployed Magazine, this film will be screened alongside two other recent productions, Enemy Ladder (2017) and I AM A PROBLEM (2016).
For the past few years Benedict has made videos which depict digital worlds populated by aliens on talk shows, gluttonous beds, and talking dolphins. Through a near religious commitment to television, he subverts the conventions of popular infotainment genres such as music videos, YouTube tutorials, cooking shows, advertising, and talk shows. In this way, he makes us feel what it's like to live in an infinitely malleable realm, in other words, in the present.
Degrees of Disgust follows a dominatrix Uber Eats driver as she considers the political forces and historical events that brought her to this point. The voiceover taken from Jia Tolentino's book Trick Mirror, confronts our culture's endless drive towards 'self-optimisation' and the position that women find themselves in when trying to organize their lives around practices they find ridiculous and possibly even indefensible.
In Enemy Ladder, a thunder storm rages outside as a woman sits in the safety of her home reading a book containing YouTube dog videos and surrounded by a police SWAT team. The video was originally produced as a music video for the seminal noise band Wolf Eyes.
In I AM A PROBLEM, another music video for the band Wolf Eyes, an alien on Charlie Rose discusses issues surrounding assimilation while drawing parallels to Europe's so called migrant crisis. The video was included in the 9th Berlin Biennale for Contemporary Art.
Will Benedict (B. 1978, Los Angeles) lives and works in Paris. The artist's upcoming and recent exhibitions include the Biennale de l'Image en Mouvement 2020, Centre d'Art Contemporain Genève, iwillmedievalfutureyou1, Art Sonje Center, Seoul (2019), A Womb with a View, dépendance, Brussels (2019), I AM A PROBLEM, MMK, Frankfurt am Main (2018), New Video and Painting, Balice Hertling, Paris (2018), Recent Video, Overduin & Co., Los Angeles (2018), Fiction is a Terrible Enemy, Fondazione Giuliani, Rome (2017), Law and Order, Simon Lee Gallery, Hong Kong (2016) and Corruption Feeds, Bergen Kunsthall (2014).
Cover image: Photo by Reto Schmid