---
---
---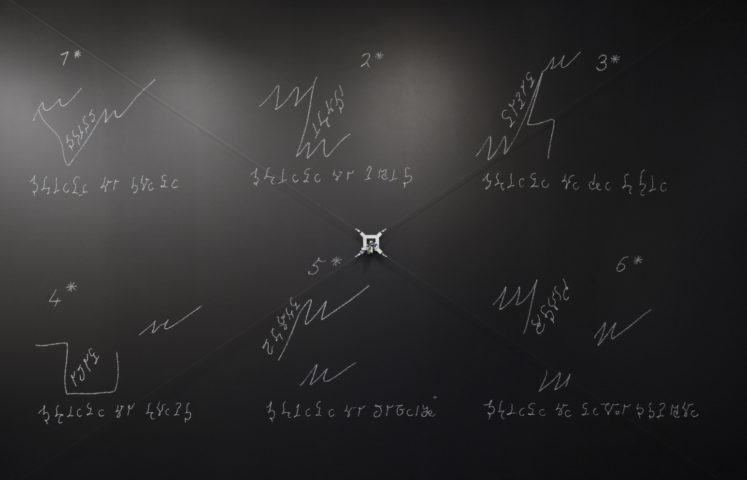 Create your invented alphabet
---
On the occasion of the exhibition Scrivere Disegnando (29 January – 23 August 2020), the Centre d'Art Contemporain Genève launched a contest between March and June called "Create your invented alphabet", as an echo of the artists in the exhibition who have invented their own imaginary, cryptic and mystical alphabets,.
Initiated at the beginning of the lockdown, when the exhibition was closed due to  health measures linked to Covid 19, this contest allowed participants to play a game, a game with language, and therefore a game of supreme freedom, born during a moment of physical constraint.
Many proposals were received and the results are extraordinary, as the selection of the winners attests:
1st prize:
– Nacoca Ko for RONA-ALPHA 1A and RONA-ALPHA 2
2nd prize ex-aequo:
– Alex Manea for Silent Alphabet
– Daniela Riveros for Dance
Special Jury Mention:
– Malizia Moulin for StarCode
The alphabets invented by the winners and all the participants are visible below.
Contest rules
Using a single colour, on A4 paper or digital media, draw your own alphabet by composing a pangram, that is a sentence using each letters of the alphabet. For example:"The quick brown fox jumps over the lazy dog".
Give your alphabet a name.
Send a photo or scan of your alphabet
The Jury
– Andrea Bellini, Director of the Centre d'Art Contemporain Genève and co-curator of the exhibition
– Sarah Lombardi, Director of the Collection de l'art Brut in Lausanne and co-curator of the exhibition
– Jürg Lehni, artist, creator of Otto
– Filipe Machado, Inventor of the Fuzocode 21 alphabet. He currently works at Ex&Co Video Production and is an assistant for adult training and cultural mediation for the association 1001 feuilles. Specialist in accessibility with mental disability.