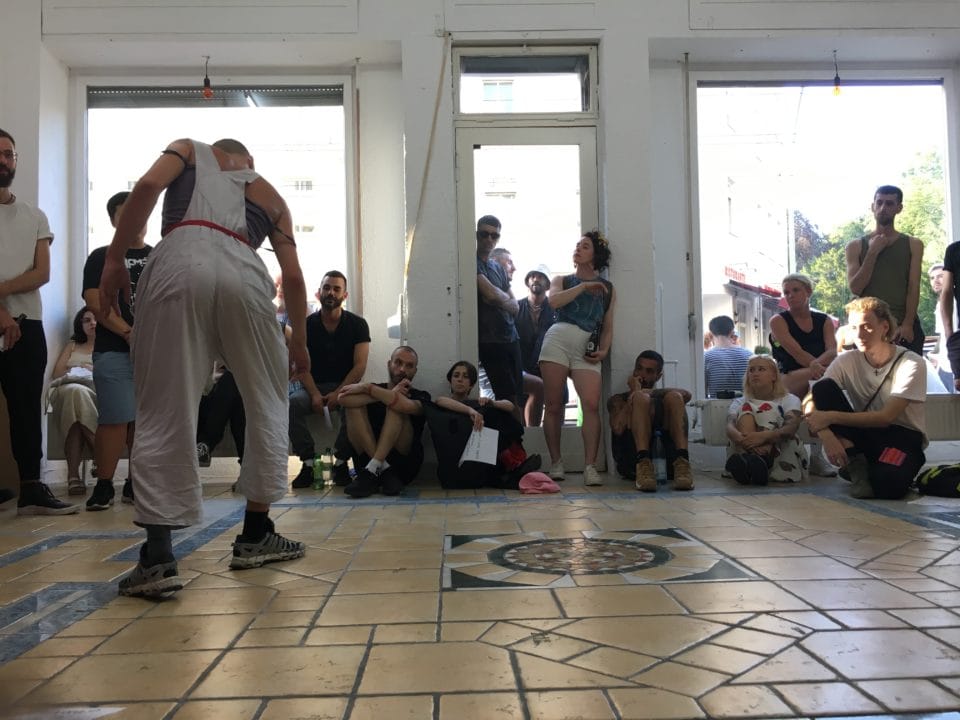 ---
The Centre d'Art Contemporain Genève is happy to host POWER a performance by António Onio (1989, Portugal).
As a performer, António Onio has always considered himself as somehow privileged: he announces his show, people come, watch silently his proposal, without him really knowing what the public thinks. In POWER, Onio relies on this play of forces and takes vulnerability as the driving force of a performative practice where the relations of spectator/performer power are blurred. The performative space becomes a terrain for emotional and intellectual duel. Only through the vulnerable exchange can power truly be shared and bounced around.
This play of strengths and energies, be it the power threshold of the dichotomy between the performer and its audience, be it Onio's erratic movement practice, all lead to the same place: a place of realness, where actions can transcend space and words can transcend people. António believes firmly that this context is only reachable through a soft touch of exposure, a shameless weakness, the power of vulnerability.
The main focus of Onio's work has been the brutal and constant questioning between the barriers separating the public, the personal and the private, the trans-disciplinary nature of performance, the body as source of social and moral questioning, and the seeking of vulnerability, delicacy and failure as performance weapons in the struggle against patriarchal society.
António Onio  studied dance at SNDO in Amsterdam. Since 2011, he has concentrated on his own projects, and collaborating also with other choreographers such as Miguel Pereira, Tian Rotteveel, Igor Dobricic, Ivo Dimchev, Vincent Riebeek,Young Boy Dancing Group, amongst others. His work has been shown around Europe , USA and Mexico.
In addition to performing, he throws parties and DJs, under the moniker ONIO, and has been a driving force of parties such as MAKUMBA, REIF and Fridges, working also as a curator for parties and events.
Concept, Choreography: António Onio
Styling and Technical Assistance: Marcelo Alcaide
Music: Terry Riley
Supported by: Centre d'Art Contemporain Genève, Supportico Lopez Berlin , PPP Athens 2016, UKIP London
Many thanks to: Andrea Bellini and his team, Stefania, Yolanda, Kira , Wilma , Xavi, Caitlin and my one and only, Marcelo
IG : @onioonioonio
Soundcloud : /onioonioonio