---
Martin Boyce

Sans titre


2007
DESCRIPTION
Edition of the Centre d'Art Contemporain Genève.
Serigraphy on paper Somerset Tub Sized Satin enhanced with spray.
DIMENSIONS
152.4 x 102.5 cm
Edition of 20 copies signed by the artist (+5 EA), including 6 lots: enhanced with blue, red, yellow, gray, black or white spray.
Price
CHF 4000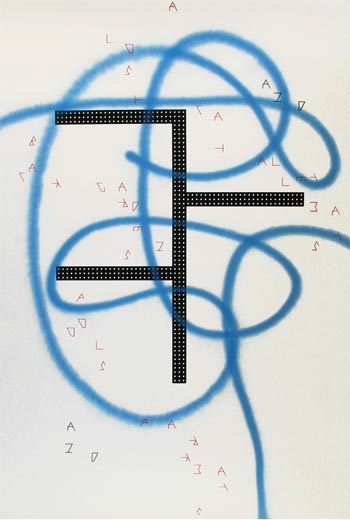 Produced for a solo exhibition at the Centre, this limited edition by Martin Boyce is part of the project that the Scottish artist, who was awarded the Turner Prize in 2011, developed for two years and based on the "Chroniques de l'oiseau à ressort", a book by Japanese author Haruki Murakami based in Tokyo. If certain places refer directly to those in the novel, what Boyce really borrows is its emotional atmosphere, suggested by the description of suburban spaces where time seems to have stopped.
Boyce's work explores the legacy of modern design and architecture from the first part of the 20th century, a legacy based on the hope for a better society that these designers and architects sought to establish through their practice. These dreams – nowadays broken – have left in their ruins residues of forms and ideas that Boyce uses in his sculptures, installations and murals.
The edition enhanced with spray includes a schematic plan of the Centre's third floor as well as the letters composing the title of the exhibition "A Lost Cat and Alleyways. Back Gardens, Pools and Parkways" spread through out the surface and that seem to offer a possible itinerary for the viewing of the exhibition. These letters just as most of the works showed in the exhibition are freely inspired by the concrete tree created in 1925 by the architect Robert Mallet-Stevens for the "Exposition Internationale des Arts Décoratifs et Industriels Modernes" in Paris.