---
Joachim Koester

Some Boarded up Houses, Chicago


2013
DESCRIPTION
Photograph on Ilford warmtone silver gelatin paper
DIMENSIONS
28 x 36 cm
Edition of 30 (+3 AP), signed and numbered.

Price
CHF 1800.- (unframed)
Frame: CHF 170.-
(frame à la Becher)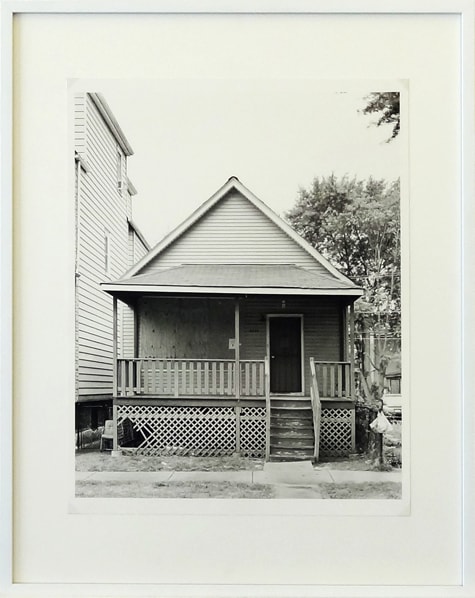 With Some Boarded up Houses (Chicago) from the eponymous series started in 2009 in the States Joachim Koester brings together Walker Evans, the emblematic photographer of the Great Depression, and Bernd and Hilla Becher, the masters of objective photography. Formally, the series borrows its language from the Bechers' famous "typologies": frontal treatment of the architectural element, taken from a high view point with the neutral light of an open sky, no human presence etc. However, contrary to the Bechers and in line with Walker Evans' approach, the houses photographed by Joachim Koester are psychologically charged, haunted by the subprime crisis that saw millions of people lose their home. Noting that our current mortgage-based economy has become much more abstract, Koester suggests that 'maybe the boarded-up house can be seen as the physical manifestation of our present mode of production' (Camera Austria n°125, 2014). Joachim Koester's work thus goes beyond the already broad field of a conceptual, documentary and narrative approach to the social and political aspect of architecture. By seeking to decode the signs of repressed history in which the walls are impregnated, the artist acts as an explorer of the invisible, an observer of a reality inhabited by ghosts.
Produced on the occasion of the solo show The Place of Dead Roads, the limited edition Some Boarded up Houses (Chicago) echoes the exhibition itself with its wooden maze, its atmosphere describing according to Koester "a prohibited space where ghosts can meet and where chance encounters are not excluded".
Joachim Koester is an artist born in 1962 in Copenhagen, Denmark. His works have been shown at Documenta X, Kassel; at the Johannesburg Biennale; the Kwangju Biennale; the Venice Biennale; the Busan Biennale; the Manifesta, Trento; Tate Triennial, London; Taipei Biennale, Taiwan; as well as in solo shows at Centre national de la photographie, Paris; Statens Museum for Kunst Copenhagen; CASM, Center d'Art Santa Mònica, Barcelona; Palais de Tokyo, Paris; Moderna Museet, Stockholm; Museo Tamayo, Mexico City; The Power Plant, Toronto; Kestnergesellschaft, Hanover; IAC,Villeurbanne; MIT, Boston; Charlottenborg Copenhagen; S.M.A.K, Ghent; and Camera Austria, Graz.