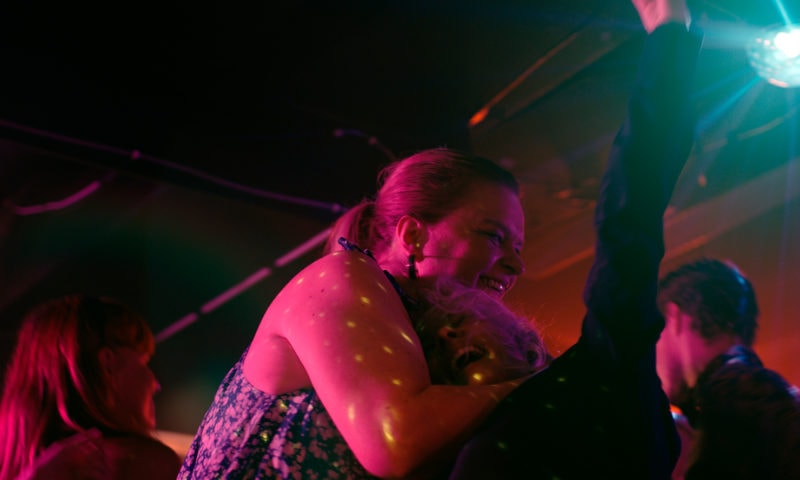 Cinema Dynamo
Screening evening with Anu Pennanen, Sylvie Boisseau & Frank Westermeyer
---
The Centre d'Art Contemporain Genève welcomes Finnish filmmaker Anu Pennanen and Stéphane Querrec (scriptwriter-producer / PALO Art productions) for a film screening and conversation with artist duo Sylvie Boisseau & Frank Westermeyer.
This screening evening organized in collaboration with HEAD – Genève presents a selection of films screened focuses on a methodological approach that develops and unfolds its narrative out of places. Though the three films could be assigned to different genres such asobservation documentary, fiction film with and interview-based documentary, they all have in common the central theme of site and place: Each film in its own way explores how urban places—through visible or hidden power structures—affect human behavior and even mental state.
On this occasion, the film I (Minä, 2022) by Anu Pennanen will be presented in première with two of her other productions and a film by duo Sylvie Boisseau & Frank Westermeyer. The evening will take place at Cinema Dynamo (4th floor) and will be followed by a discussion and a cocktail with the artists.
Anu Pennanen (b.1975) lives and works in Helsinki, Finland. Her work explores the way we deal with urbanization and the effects of globalization on the way we live. At the intersection of visual art, film and architecture, it features people who question the built environment they are part of. Pennanen's creations always start with a concrete and real space, a territory close to her: this allows her to practice something very close to life, involving history, anthropology, archaeology and existential problems. Often, that territory is segregated. Pennanen's work has been exhibited in museums and at festivals all over the world. She has had solo exhibitions in France, Belgium, The Netherlands, Germany and her native Finland.
Sylvie Boisseau and Frank Westermeyer form a French-German artist duo that lives and works between Berlin and Geneva. Their art films and video installations have been shown in international exhibitions, including an ongoing show at  Große Kunstschau Worpswede Museum, and at various festivals such as transmediale Berlin and Kino der Kunst Festival in Munich. The duo develops a research through the means of art, as in the 2021 publication Jouer à être humain (with David Zerbib), available at HEAD editions and Naima. Frank Westermeyer is Head of the Information Fiction section within the Visual Arts departement at HEAD – Genève.
PROGRAMME
Anu Pennanen
I (Minä, 2022)
Sylvie Boisseau & Frank Westermeyer
Bootstrap – le futur determiné (2017)
Anu Pennanen
Amitié (Sõprus – Дружба, 2006)
Anu Pennanen
Un Monument pour l'invisible (2003)  
Image: Still from I (Minä, 2022) by Anu Pennanen. Courtesy of PALO Productions 2022.