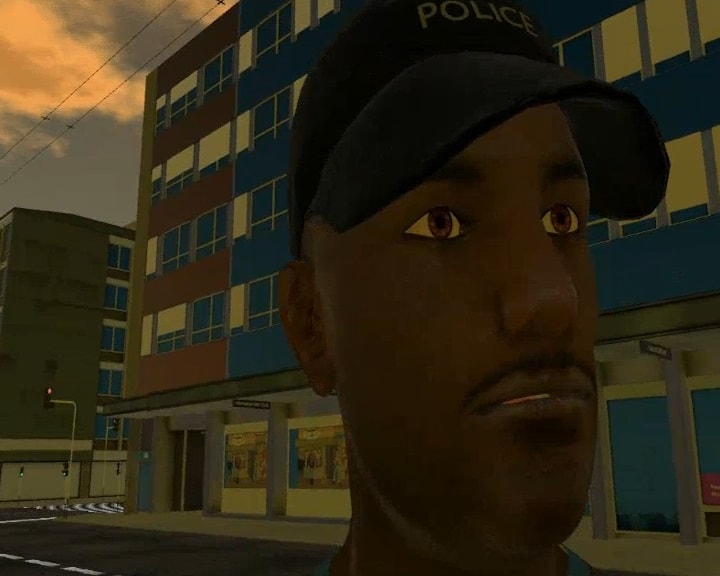 SUBJECTIVE HILL
Yulia Lokshina and Angela Stiegler
---
Imagine, behind that hill there is the enemy.
In SUBJECTIVE HILL (2019), the documentary filmmaker Yulia Lokshina and the visual artist Angela Stiegler follow a long-term virtual reality study on affective behaviour in stress situations, conducted in cooperation with the Geneva police force at the Swiss Center for Affective Sciences at the Geneva University under the supervision of Professor David Rudrauf.
Where lies the difference between real and looming danger? In a simulation, perception and projection are combined in order to predict the outcome of a situation or prevent its escalation. The learning mechanisms to control body and mind are studied in the laboratory.
SUBJECTIVE HILL (2019) operates in an experimental setup in order to examine the purpose and effects of simulation, both virtual and real, and the affective reactions they cause. A body cam traverses a series of rooms, slipping into various roles space by space: From a police officer patrolling a red light district in Geneva, intruding into a private living room as a friend in the South of France, to then end up in an imagined theatre of war. Focussing on the influence of prior beliefs on our perception of reality, this setup follows the logic of the Virtual Reality experiment at the laboratory of the Centre for Affective Sciences in Geneva, where confrontational situations of police officers were simulated to enable the examination human affective states. Within this documentary approach, the body cam  a camera used in police work and worn right on the chest – is transferred into a narrative fictional context of a subjective gaze.
Yulia Lokshina (B. 1986, Moscow) and Angela Stiegler (B. 1987, Munich) meet at the crossroads of documentary filmmaking and visual arts in the interest of linking the two areas in their work. Since 2014, Lokshina and Stiegler have been working together in various constellations in the context of a series of art and film productions. In 2017/2018 they were awarded the one-year media art scholarship of the Munich Filmschool and the Kirch Foundation to produce the art and science collaboration SUBJECTIVE HILL and were further supported by the EOFA Residency (Canton Switzerland Geneva) and the CISA in Geneva.