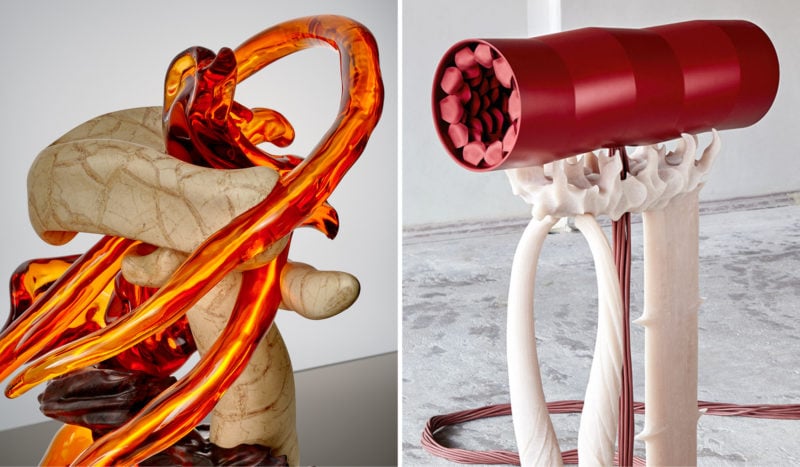 Audrey Large / Théophile Blandet
Design in Metamorphosis
---
The Centre d'Art Contemporain Genève is pleased to present Design in Metamorphosis, an exhibition of the innovative work of Audrey Large and Théophile Blandet and their unique investigative paths.
With it, the Centre extends the themes of its major group show, Chrysalis: The Butterfly Dream—which explores all facets of metamorphosis and included an array of performances, screenings, and special events—to the sphere of experimental contemporary design.
The designs of Audrey Large and Théophile Blandet carry the spores of our material culture and of a society in constant transformation. They are prime derivatives of a future that projects itself onto the present, creating a fluid language that—paradoxically—combines polar opposites: intangible and tangible, one-off and reproduceable, artisanal and industrial. Large and Blandet both pursue a design process marked by radical interest in experimentation, and both view the zeitgeist through a lens of alteration, mutation, and change. Their objects show design as an effective tool for representing and manifesting the transitory.
With their striking aesthetic presence and illusionistic use of color, Audrey Large's works challenge the reliability of vision and our sense of the tangible. They are presences of astounding originality that seem poised between analog substance and digital impermanence, a quality that transforms them into avatars charged with symbolic power, sensible and critical objects that raise questions about our current criteria for defining and distinguishing what is "real" from what is "virtual"; these works erode and blur this dichotomy until it becomes wholly irrelevant.
Théophile Blandet's works are difficult to classify. Both ordinary and extraordinary, alien and sometimes equivocal, his devices can be interpreted on more than one level—object-discourses that give rise to spurious narratives, hovering between fiction and non-fiction. Dreamlike and disorienting, these are one-of-a-kind pieces crafted with supreme skillful; they turn conventional standards of functionality upside-down, as chimeric presences with a hybrid appearance and startling capacity for transformation.
This exhibition, presented across the third floor of the Centre, unveils a sequence of expressive, chrysalis-like bodies. The ensuing dialogue between the works of Large and Blandet prompts reflection on the concept of identity and the potential semantic drift of the word "metamorphosis."
Design in Metamorphosis is curated by Barbara Brondi & Marco Rainò.
Image (left) :  Audrey Large, Metamorphosis Signals : PBRLamp01_Mud_Cracked_Dry_4k_Lava003_2K_GlassBSDF, 2023 (detail). Courtesy of the artist. Photo: Pim Top | Image (right) : Théophile Blandet, Fountain Of Money, 2017 (detail). Courtesy of the artist. Photo : Femke Reijerman