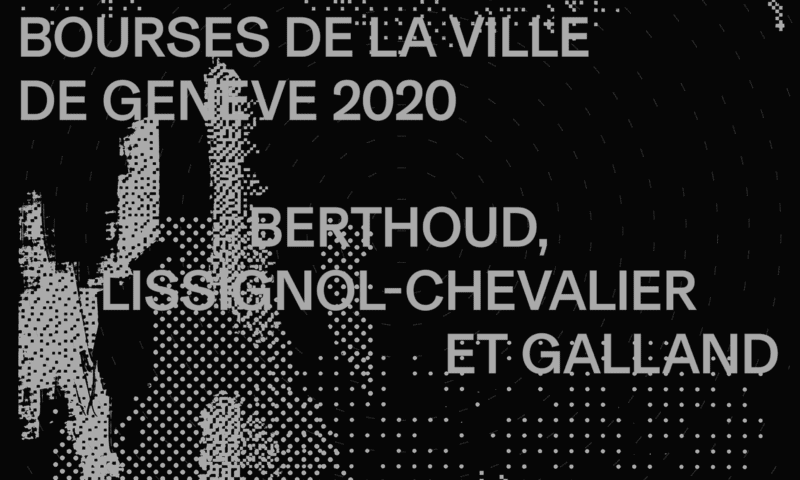 Bourses de la Ville de Genève 2020
---
AMI, Nicolas Cilins, Gustave Didelot, Giulia Essyad, Sébastian Gross, David Knuckey, Lucia Martinez Garcia, Laurence Rasti, Simon Senn, Jeanne Tara, Ye Xe, Eva Zornio
---
Every year, artists and creators from Geneva compete for one of the bursaries offered by the Berthoud, Lissignol-Chevalier and Galland Funds of the City of Geneva, in the field of visual and applied arts.
The exhibition of the works of the nominated artists at the Centre d'Art Contemporain Genève has over the years established itself as a versatile platform for artists and the public, as well as a true reference in contemporary visual and applied arts in Geneva.
Sculpture, painting, photography, video, installation, graphic design are just some of the forms invested by the young artists and designers shortlisted this year.
Shortlisted artists
Visual Arts:
Nicolas Cilins
Gustave Didelot
Giulia Essyad
David Knuckey
Lucia Martinez Garcia
Simon Senn
Jeanne Tara
Ye Xe
Eva Zornio
Applied Arts:
AMI (Adeline Senn & Martin Maeder)
Sébastian Gross
Laurence Rasti
Laureates :
Nicolas Cilins, winner in Visual Arts
Sébastian Gross, winner in Applied Arts
Laurence Rasti, winner in Applied Arts
Graphic design: Jean-Marie Fahy and Pierrick Brégeon for the City of Geneva