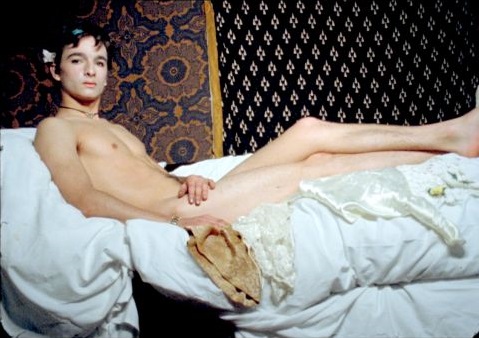 ---
Gabriel Abrantes' work focuses on the transformations imposed by globalization on the politics, economics, and cultures of rapidly developing countries. From love story to war film, from melodrama to comedy, the artist explores the relations of power and desire in contexts such as Angola, Haiti, Sri Lanka, Portugal, and Brazil.
Abrantes will show 4 short films during the projection at the Cinema Dynamo: Olympia I&II (2006), Ornithes (2012), Liberdade (2011) and Trapobana (2013).
Olympia I&II (2006) Collaboration with Katie Wildoski.
Olympia I&II is one of Abrantes earliest films, produced while he was studying at the Cooper Union in New York. The film is a diptych of two reconstitutions of Manet's Olympia. The first "tableau" features Katie dressed as Olympia; the second one shows Abrantes in a transvestite version of the famous figure. Both seductive and absurd, the film deconstructs the mythical aura of the work while simultaneously complexifying its legacy.
Ornithes (2012) contrasts a staging of Aristophanes 'Birds', acted in the original attic Greek in the middle of Jacmel, Haiti, with local folk stories and carnival culture.
Liberdade (2011) Collaboration with Benjamin Crotty.
Liberdade recounts a love story between an Angolan boy and his Chines girlfriend, which is complicated when the boy steals Viagra in order to fix his impotence. Through the love story of these two adolescents Abrantes explores the impact of mass immigration and global capital in Angola. The film received the Film and Video Award in 2011 at the Locarno Film Festival.
Trapobana (2013) is a comedy about one of the first colonial authors, Luiz Vaz de Camoes, a Portuguese poet who wrote in the Orient during the 16th Century. It has premiered in competition at the 2013 Berlinale.
Gabriel Abrantes (1984) is an American born artist and film-maker based in Lisbon, Portugal. He studied at the Cooper Union in New York (2006), at the Ecole Nationale Supérieure des Beaux-Arts in Paris (2005 – 2006) and at the Fresnoy Studio National des Arts Contemporains in Tourcoing (2007). In 2010, he received the Léopard d'Or at the Locarno Film Festival for his short film A History of Mutual Respect. The same year, he established A Mutual Respect, a production company that seeks to find alternative means to produce moving-images. His films were recently shown in the collective exhibition Dynasty at the Palais de Tokyo and the Musée d'Art Moderne de la Ville de Paris (2010). In May 2013 the MIT Visual Arts Center (Cambridge, MA) organized a solo exhibition of his work: List Projects : Gabriel Abrantes. His films were also shown at the Kunst-Werke Institute for Contemporary Art (The Ghosts of Eden: The Films of Gabriel Abrantes, 2013).
The artist will take part in the 2014 Biennial of Moving Images organized by the Centre in September, during which he will premiere a new film produced by the Centre.