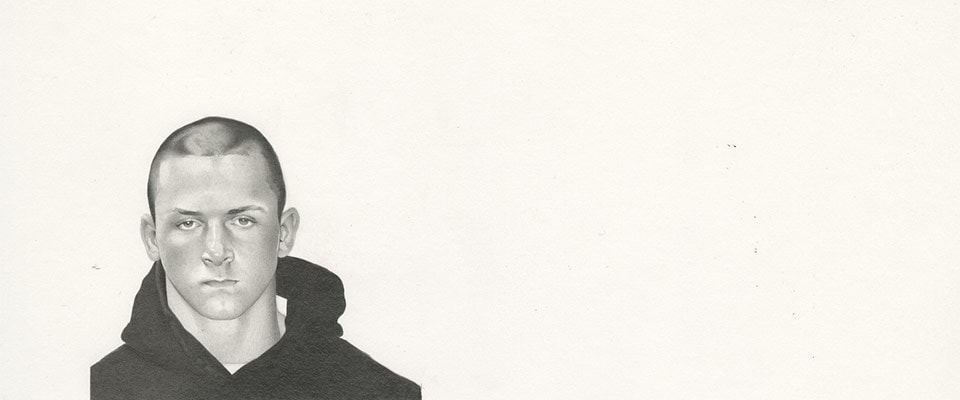 Jérôme Baccaglio
En tonnes et en grammes
---
Jérôme Baccaglio has an exclusively drawn practice. His work merges existing motifs and shapes, meticulously duplicated. Without being narrative, his drawings seek their delicate balance between erudition and triviality.
For En tonnes et en grammes, his first institutional solo exhibition, he presents a series of 30 drawings in the Project Space. All of the same size, they are presented bare, unframed, to be read as a score or a book.
The aligned sheets are punctuated by wobbly logos and elusive figures creating a skeletal rhythm. Paper, like a semi-hostile and fragile space, crinkles and vibrates under the weight of motifs. He is sprinkled with figures that evoke as much the grand heritage of drawing as the solitude of its practice.
With the desire to slow down the flow of images he is exposed to, Jérôme Baccaglio filters and reappropriates some of these. With a modesty that suits the technique of drawing, he establishes a graphic vocabulary conceived both as a receptacle and a repertory of signs whose arrangement does not attempt to produce a narrative.
Jérôme Baccaglio was born in 1983 in the Philippines, he now lives and works in Geneva. He obtained a Master degree in Visual Arts at Ecal in 2015. He participated in exhibitions at Ribordy (Geneva), Circuit (Lausanne) and the Fondation d'entreprise Ricard (Paris). Jérôme Baccaglio will also present a new work at the Centre d'Art Contemporain Genève's booth (D17) at Artgenève 2018.