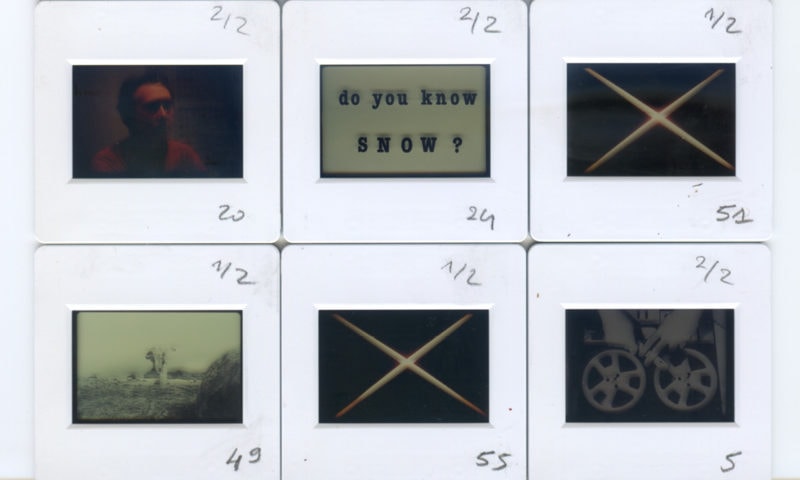 Daniel Caux & Michael Snow
Do You Know Snow?
---
A tribute to the Canadian artist and filmmaker Michael Snow (1928–2023), who died earlier this year, the exhibition "Do You Know Snow?" offers a new look at the work of a major 20th-century artist. Based on an eponymous radio program produced by Daniel Caux in 1978 as part of his radio creation workshops, and a slideshow thought to have been lost since it was last shown in 1978, the exhibition invites visitors to reflect on the nature of the work of art and the document. Combining experimental conceptual and informative practices, this immersive multimedia presentation (text, sound, image) explores the future of works of art in the era of dematerialized media.
A tireless experimenter, Michael Snow always played on retrospection, unhesitatingly producing new works based on his previous production. His interest in transfer or translation from one medium to another lay at the root of several works that allowed him to develop his research into the plastic and conceptual potential inherent in the reproducibility of images. For Snow, each retrospective gesture – or endeavor – resulted in the creation of increasingly complex works, which in turn generated the possibility of a revitalized exhibition space, a 'Chinese box,' to use a term dear to the artist, in which the work and its reproduction, the image and its commentary, become conflated.
Drawing on some of the aesthetic and conceptual approaches initiated by Michael Snow, "Do You Know Snow?" explores the fine line between a work of art and a document in an immersive, multimedia presentation in which the written word, image and sound invite us to reconsider our relationship to the work, but also to screens.
An exhibition developed by Jonathan Pouthier and Pierre Leguillon. Graphic design by Roch Deniau.
Michael Snow (1928–2023) is considered a major figure in contemporary Canadian art since the postwar period, and one of the great experimental filmmakers. Wide-ranging and multidisciplinary, his work explores the possibilities inherent in different media and genres, and embraces film, video, painting, sculpture, photography, writing, and music. Snow taucht in universities across the world and presented his work on many occasions in solo and group exhibitions, such as the XXV Venice Biennale; the Museum of Modern Art, New York; the Centre Georges Pompidou, Paris; the Kunstmuseum, Lucerne; Documenta 6, Kassel; Hara Museum of Contemporary Art, Tokyo; MoMA PS1 (NY, 2009); Whitney Biennial (NY, 2006); the MAC Montreal; among others. His work has received prestigious awards and been the subject of numerous retrospectives.
This exhibition has been organized as part of "Zone grise de l'original (des bifaces aux NFT)," a research project directed by Pierre Leguillon (HEAD – Geneva, HES-SO), 2022–24. This project is supported by the HEAD – Geneva Art and Design Research Institute and the HES-SO Strategic Fund.
We extend our thanks to Jacqueline Caux and Peggy Gale for their trust throughout the development of this exhibition. We are also grateful to Amélie Boulin and Adélaïde Quenson, who have helped to bring this project to fruition, and to the FMAC and MAMCO for opening their archives to us.
Image: Do You Know Snow?, 1978, diaporama Copyright Daniel Caux