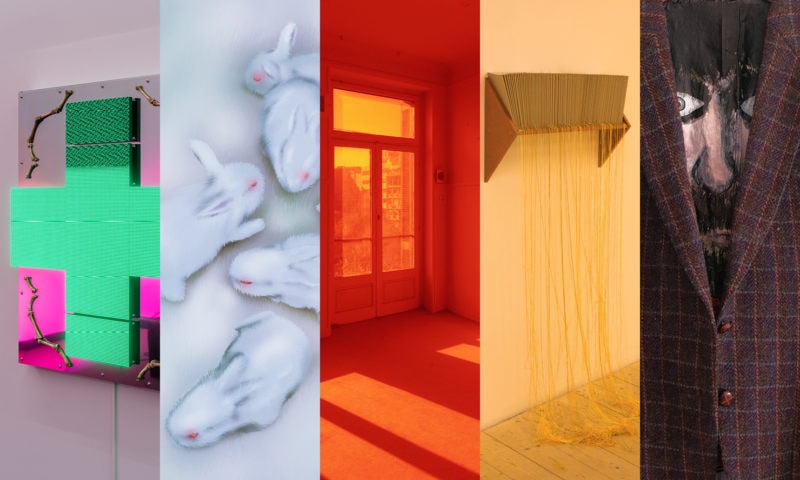 Swiss Emerging Artist Prize 2022
---
Mathis Altmann, Louisa Gagliardi, Deborah Joyce Holman, Tina Omayemi Reden and Dorian Sari
---
The Centre d'Art Contemporain Genève is pleased to present a group exhibition of Swiss artists or artists working in Switzerland that brings together Mathis Altmann, Louisa Gagliardi, Deborah Joyce Holman, Tina Omayemi Reden and Dorian Sari.
The fruit of a partnership with Societe Generale Private Banking Switzerland, the exhibition highlights the emerging Swiss contemporary art scene while encouraging exchange and dialogue between these young artists and the rich cultural world of Geneva.
The works presented illustrate a broad diversity of approaches: painting, sculpture, installations and video art – the practices of the artists taking part in the Swiss Emerging Artist Prize 2022 is mainly multidisciplinary.
As visitors pass through the exhibition, they discover paintings that strangely tackle the past and present; striking installations that echo current economic and social realities; assemblages that are polyphonic or composed of LED screens and lights, but also challenging sculptures and video works. The works cite irony, disquiet and mildness in turn. They reflect the concerns of the young contemporary art scene, encompassing political commitment, social cohesion and reinterpretations of reality.
The exhibition is organized in the context of the Swiss Emerging Artist Prize founded in 2018 by Societe Generale Private Banking Switzerland (SGPBS), which rewards an artist aged no more than 35 years old who has developed a coherent and original approach. In the first step of the process, a group of curators selected the 15 artists who would participate in the prize. Out of these, the 5 artists featured in the exhibition were then chosen by a jury composed of Andrea Bellini (director of the Centre d'Art Contemporain Genève and curator of the exhibition), Giovanni Carmine (director of the Kunst Halle Sankt Gallen), Laurent Issaurat (head of Art Banking at Societe Generale Private Banking), Kabelo Malatsie (director of the Kunsthalle Bern) and Bettina Steinbrügge (director of the Mudam Luxembourg – Musée d'Art Moderne Grand-Duc Jean).
The Swiss Emerging Artist Prize 2022 is awarded to Deborah Joyce Holman. The jury emphasized that the artist's work is formally very powerful and was impressed with by the relevance of their subjects to contemporary discourses.
Since its launch, the Swiss Emerging Artist Prize has already contributed to the development of the work of two young artists. In its first year in 2018, the prize was awarded to the Basel-based artist Hannah Weinberger, who was subsequently invited by the Centre d'Art Contemporain Genève to produce a pioneering immersive and participatory exhibition with the support of SGPBS. In 2020, thanks to the recognition brought by the prize, Lorenza Longhi was able to develop new projects, at the Kunsthalle Zurich in particular.
The exhibition will be open from 13 May to 7 August 2022. Free entry.