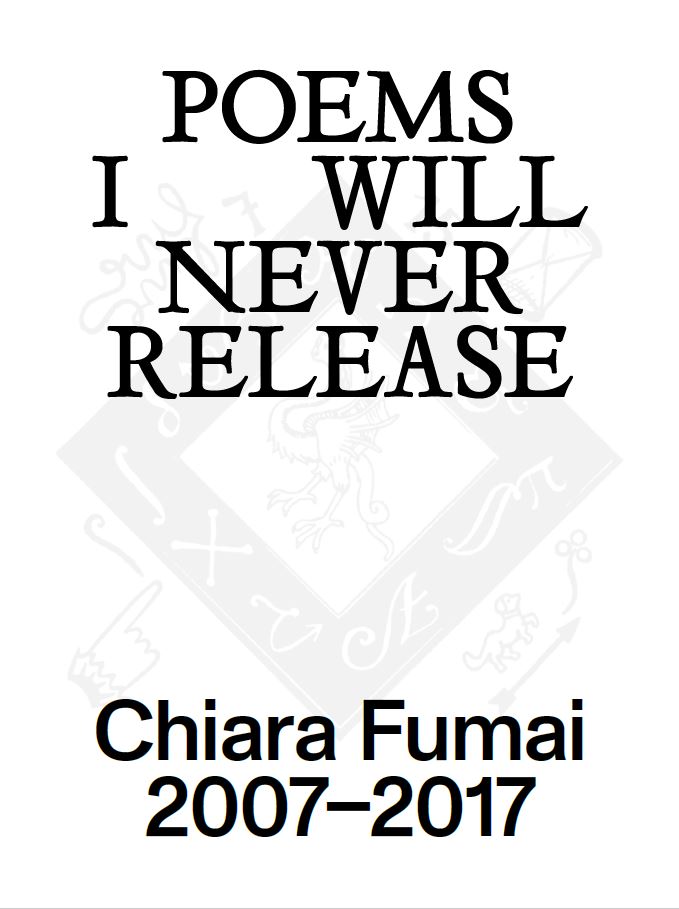 Poems I Will Never Release: Chiara Fumai 2007-2017 (English edition)
Edited by Francesco Urbano Ragazzi, Milovan Farronato, Andrea Bellini
NERO Editions

English edition
February 2021
ISBN 9788880561200
Price
CHF 55
From November 28, 2020 until February 28, 2021, the Centre d'Art Contemporain Genève proudly presented Poems I Will Never Release, the first retrospective of the oeuvre of Chiara Fumai (b. Rome, 1978–d. Bari, 2017). The exhibition is curated by Milovan Farronato and Francesco Urbano Ragazzi in collaboration with Andrea Bellini.
This exhibition will is also presented at Centro Pecci, Prato (Spring 2021), La Loge, Brussel (Autumn 2021) and La Casa Encendida, Madrid (2022).
The volume, published by Nero Editions, is the first monograph ever dedicated to the work of the artist. The catalogue includes contributions by Irene Aristizábal, Andrea Bellini, Federico Campagna, Milovan Farronato, Gabriel Lester and Raimundas Malašauskas, Chus Martínez, Mara Montanaro, Paulina Olowska, Cristiana Perrella and Marcello Bellan, Francesco Urbano Ragazzi andGiovanna Zapperi. It includes a chronology and bibliography by Sara De Chiara.
The publication is supported by the Italian Council program (7th Edition, 2019) for promoting Italian contemporary art in the world by the Directorate/General for Contemporary Creativity of the Italian Ministry of Cultural Heritage and Activities and Tourism.
The catalog exists in English and Italian. See the Italian edition.