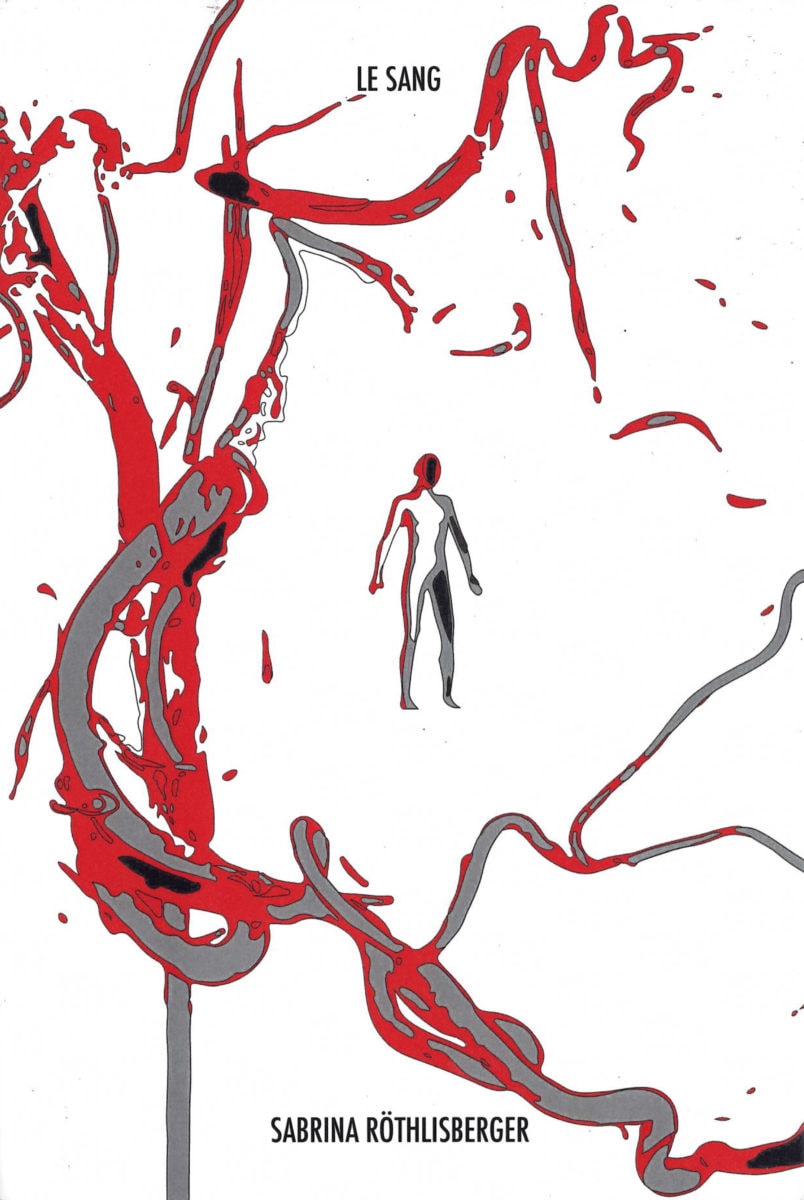 Sabrina Röthlisberger, LE SANG
Edited by Sabrina Röthlisberger with the support of Centre d'Art Contemporain Genève
Mousse Publishing, Milan

Texts in English, Frencg, German
January 2020
ISBN : 978-2-9701054-1-1

15.5 × 23.5 cm
188 pages
Price
CHF 28
Following her residency at the Centre d'Art Contemporain Genève, Sabrina Röthlisberger published her collection of poems LE SANG.
The hundred poems published in this volume have been staged during a performance combining music, words and choreography, developed in collaboration with Tamara Alegre and Garance Bonard. Röthlisberger reveals, in a howl, a text that evokes both her pain and a dark eroticism. She addresses what could be considered a failed life, its achievements, progression and victories.
Sabrina Röthlisberger gives a poignant description of her decomposition followed by her slow return to life. She writes her thoughts up in the idea of connecting with herself, through the chemical fog of drugs. She weaves, picks up and patches the thread of her thought. Through narration she regains control. She investigates this strange evil that inhabits her, this body, made mysterious. The words that flow from this wounded mouth grow like brambles, darded with spines, aggressive because they are protective. Art acts as an armor, a shield. Like the last fantasy that the bedridden artist accords herself, a stage that allows her to show her decline, …
Gaia Vincensini, Preface, LE SANG
Born in 1988 in St Julien-En-Genevois, Sabrina Röthlisberger lives and works in Geneva. Her videos, performances, sets, installations and texts address the links between medicine and death, power and survival by combining references to art history alongside allusions to her own history and social identity. Her works have been exhibited at the Musée d'Art Moderne d'Oran, Algerie; Les Urbaines, Lausanne; Kunstmuseum Bern; Kunstmuseum Thun; 186f kepler, New York; Upstate, Zurich; Alienze, Lausanne and LiveInYourHead, Geneva, among others. She is a winner of the Aeschlimann-Corti 2019 scholarship, the BNP New HEAD Prize and has participated in the Swiss Art Awards. At the end of 2018, she was also a resident at the Swiss Institute, New York.
Röthlisberger is also involved in curatorial practice and has created a programme of exhibitions and events during her residency in New York in collaboration with artists such as Ada O'Higgins, Sadaf H Nava, Lisa Signorini, Julien Ceccaldi, Marcel Alcalá, Gaia Vincensini, Dese Escobar, Aran Shanmugaratna, and the poet Roger Van Voorhees.
Sabrina Röthlisberger, LE SANG, 2020. Self-published with the support of the Centre d'Art Contemporain Genève.
Graphic design: Kim Coussée.
Texts: Sabrina Röthlisberger, Gaia Vincensini