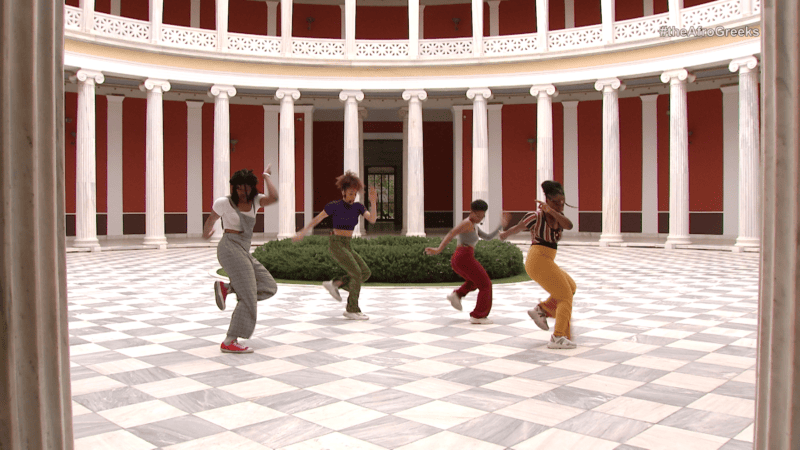 ---
The Centre d'Art Contemporain Genève, with the support from Flux Laboratory, is pleased to present a performance by five protagonists of the collective community project the AfroGreeks, presented on the second floor of the Centre.
The dancers, all members of the Afrodance group the Roots, will creatively intervene in the exhibition Re/member Your House and invite the audience to participate in a collective process of redefining the assertion of freedom through dance expression. The performance showcases the group's unique style featuring elements ranging from African traditional dance moves to contemporary Afrodance fusion, mixed with poetry and body percussion.
About the Roots
"the Roots" is a collective of dancers with origins from different parts of Africa. They are based in Greece, representing African dance in all its dimensions, using as an advantage their various backgrounds and experiences in several dance styles and having as a common vision to spread the vibrant rhythms and rich cultural heritage of Africa through dance.
– Jessica Onyiyechi Anosike:  With origins from Nigeria, she is a dance sensation recognized for her smooth and playful transitions creating afusion of Afrobeat and traditional African Dance.
-Irene Adwoa Annan Sackey: With Ghanaian roots, she captivates audiences with her fluid yet precise movements and storytelling through dance.
– Demelza Elpida Itzeoma: With roots from Nigeria and the UK, she is a dance sensation who bridges the gap between Afrobeat and Afro-House.
– Eugene Mbappe Mikano: A Cameronian powerhouse connecting traditional African dance with Afro-contemporary.
– Grace Chimela Eze Nwoke: With origins from Nigeria, she is known for her electrifying energy and her West African dance-inspired moves.
A project coproduced by Centre d'Art Contemporain Genève & Flux Laboratory
Image: Still from the AfroGreeks – Live Events highlights, 2019-2023, digital video, single channel, colour, stereo sound, 14' 04''.  Courtesy of Døcumatism