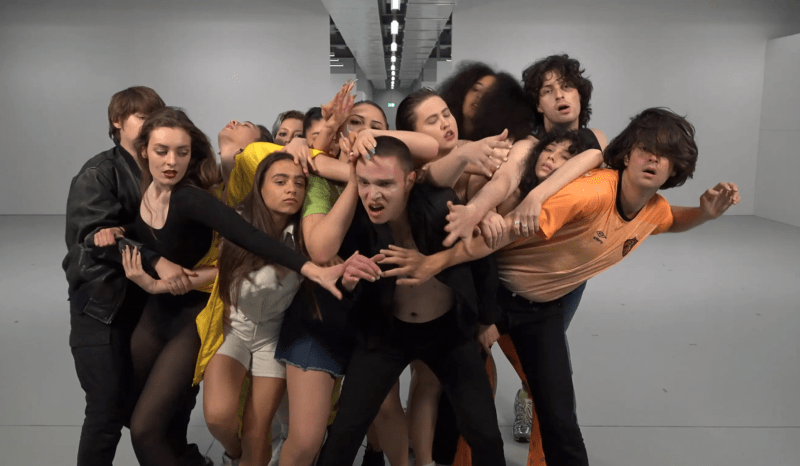 AVALANCHE
---
Alexandra Bachzetsis
Dancing
---
The Centre d'Art Contemporain Genève is pleased to present Dancing by Alexandra Bachzetsis as part of the performance program AVALANCHE. The performance, in collaboration with the Visual Arts department of HEAD – Genève, [Inter]action option, will be presented two occasions on Sunday May 30:
18.00*
Dancing by Alexandra Bachzetsis
Reservation
19.00*
Dancing by Alexandra Bachzetsis
Reservation
*No late entry
Dancing – Geneva 2021
Dancing, originally conceived with the students of the Rietveld Akademie in Amsterdam in 2009, is a performance piece for 14 dancers in a white space. The piece begins with a hypnotic staccato sound loop as a music background for a sensual solo choreography. As the music changes into a dynamic dancey track, another performer appears in a distance and starts a completely different set of extravert and techno-like movements, while the first one continues the solo, uninterrupted. Various performers and groups enter the stage and leave again in a carefully planned order of appearance, sometimes together, sometimes apart. The choreography unveils as an ever-changing, rhythmic accumulation of sequences of individual and collective choreography, including overlaps, delays, movements staged in reverse, or repeated with changing speed, multiplications and other structural complications, often reminiscent of cinematic montage techniques. Composed as a riddle, which orchestrates fourteen individual parts into one, to then break them apart again and again, "Dancing" is a powerful mix of ecstatic dance and deadpan self-control of performers. The piece explores the subjective, individual body languages as material that can be appropriated, used and passed on by others. The body of each performer is celebrated as a carrier of specific corporeal experience that can be unraveled, shared and further employed, in a similar way like other forms of knowledge. "Dancing" is an embodied, fluid, collective intelligence—a different one to the one commonly associated with capacity of any individual human mind.
–  Text by Adam Szymczyk
Credits :
Staging and interpretation of Dancing – Amsterdam 2009
A work choreographed by Alexandra Bachzetsis and performed by students of the Gerrit Rietveld Academie in Amsterdam.
Concept and choreography: Alexandra Bachzetsis
Performance and Interpretation: Julia Botelho, Emi Curty, Plume Ducret, Samuelle Etienne, Jean-Marie Fahy, Zoé Gronchi, Matthieu La-Brossard, Madeline Marone, Alice Oechslin, Zeltia Robin, Alexandra Salem, Gabriel Shields-Hanau, Antoine Weil
Music: Lies Vanborm
Management: Franziska Schmidt & Regula Schelling
Co-Produced by: HEAD – Genève & Centre d'Art Contemporain Genève
Cover image: Dancing – Geneva 2021 with students from HEAD – Genève, Visual Arts department, [Inter]action option, video still. Credits: Sophie Dascal, Maya Corboud, Léon Yersin  © HEAD – Genève, Alexandra Bachzetsis