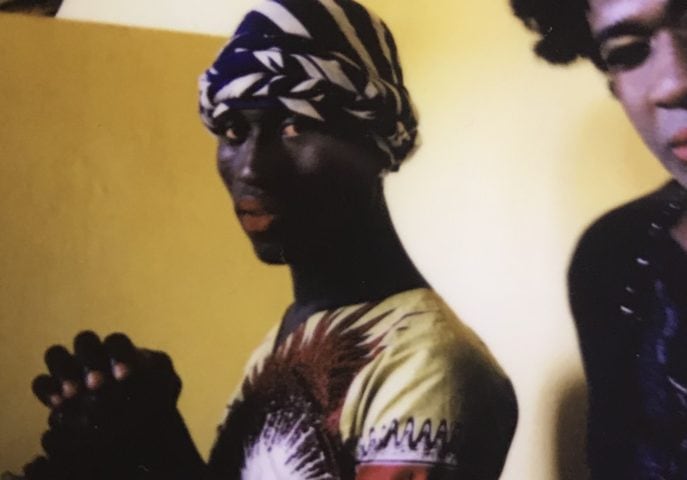 Premieres & conversations
Sarah Abu Abdallah, Florent Meng, James Richards & Leslie M. Thornton, Eduardo Williams avec Mariano Blatt
---
Biennale de l'Image en Mouvement 2018
---
Premieres followed by conversations with the artists at Cinéma Spoutnik. Films presented by the students of the HEAD – Genève's cinema department
18.00
Florent Meng, The Lost Line
(France/Switzerland · 2018 · 27 min · Spanish and English, French subtitles)
Reservation
The Lost Line tells the story of a film crew that sets off to explore the Engaña, an eight kilometers abandoned tunnel that crosses the Cantabrian Mountains. For two decades, political prisoners and peasants built a railway linking the South to Northern Spain. When only the rails remained to be laid, the track was abandoned, and the tunnel collapsed. Following this forgotten path, the film crew discovers a research laboratory from Saragossa University, where scientists experiment on dark matter. Through conversations with a physicist, the film tries to understand the logic of dark matter research and the motivations of a man to spend his life waiting for a sign to come from the invisible..
18.45
Eduardo Williams avec Mariano Blatt, Parsi
(Guinea-Bissau/Argentina/Switzerland · 2018 · 20 min · Creole and Spanish, English subtitles)
Reservation
No es (It isn't) is a cumulative poem by Mariano Blatt, whose constant writing process extends over a lifetime. The text of the poem, to which verses are added over days, months and years, can cover anything: images, people, memories, landscapes, phrases, ideas, etc. Having that list of "what seems to be but isn't" ringing in his head, Eduardo Williams' film Parsi observes in a perpetual movement the spaces and people to create another poem that is caressed, crashes and spins next to No es.
19.30
Sarah Abu Abdallah, Rosarium
(Saudi Arabia/Switzerland · 2018 · 10 min · English and Arabic, English subtitles)
Reservation
For Rosarium, Sarah Abu Abdallah works in collaboration with Saudi filmmaker Reem al-Bayyat. The film tackles crying and shedding tears in both the romanticist and the ritualistic sense. The star of the film is the actress Rana Alamuddin, who we follow around her house as she attempts with resilience to resist the everyday through the act of crying. What at first appears to be a perfect household turns out to be a hallucination that unravels as the film goes on.
20.00
James Richards & Leslie M. Thornton, Abyss Film
(USA/Germany/Switzerland · 2018 · 60 min · English, English subtitles)
Reservation
For Abyss Film, Richards and Thornton intermix new videos with raw material from their own extensive archives. By doing so, they break with familiar forms of exhibition to share a kind of beginning in an open-ended encounter with the hidden and concrete aspects that characterize their respective works. Almost imperceptible attractions circumnavigate the breadth of their materials. This program follows upon their recent artist residency at CERN in January 2018, and the fitting observation that the largest machine in the world seeks in fact the smallest matter. Abyss Film speaks to possibilities made visible by the moving image, allowing a fall into the vertiginous pleasures of looking beyond and beyond again.