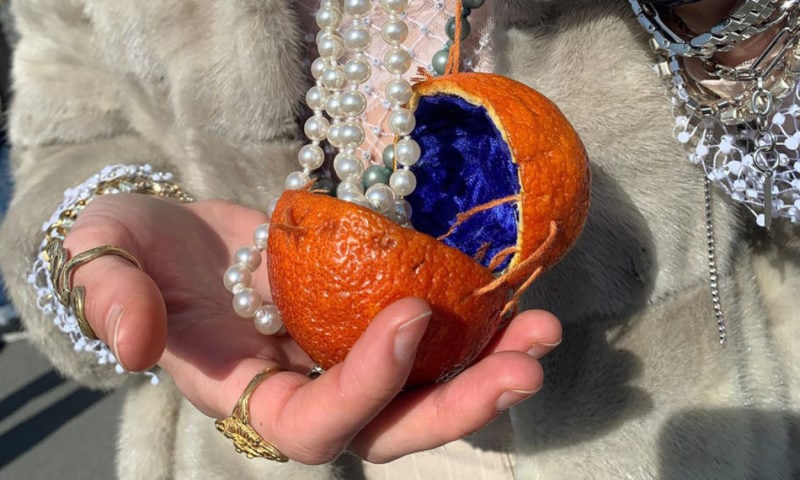 Katharina Hohmann & Lucien Monot
CONTREBANDE
---
The Centre d'Art Contemporain Genève presents CONTREBANDE a film by Katharina Hohmann & Lucien Monot, made in collaboration with Julien Aebischer, Elodie Arpa, Naema Beya, Viola Bisegger, Cédric Bobst, Gaétan Carron, Alan Croissant, Son Do, Léo Griffet, Amadeus Kapp, Léa Mercurol, Laurie Pitton, Lola Rust & Lézio Schiffke-Rodriguez.
The film is presented on Wednesday December 6 at 6.30pm in the context of a premiere with the artists.
Katharina Hohmann is an artist and professor (sculpture and installation) at HEAD-Genève since 2007, living in Geneva and in Berlin. Lucien Monot is a film director. He teaches cinema at CFP Art Geneva since 2022.
Katharina Hohmann & Lucien Monot
CONTREBANDE, 2023
30 min
Évian, Friday February 24, 2023 – 2:00 p.m., departure time of the General-Guisan, a motorboat attached to the Compagnie Générale de Navigation fleet, buildt on Lake Geneva in 1964. Shortly after its start, the boat has been quickly invaded by strange passengers. On board, the actions follow one another and the pressure increases. On the lake, the journey takes an unexpected turn. Suspicious travelers show inventiveness and cunning to evade denunciation. CONTREBANDE offers you the most peculiar crossing on Lake Geneva while revealing the dangerous daily life of local smugglers.
This film was made in a single shot, time corresponding to the duration of a crossing between Évian and Lausanne on Lake Geneva. On board, the eye of the camera wanders and sometimes stops on wacky characters, scattered through the different social spaces that make up the boat: a first and a second class, fractured spaces that reinforce the Franco-Swiss aquatic border which is being crossed. A fracture within a fracture; a fracture on the water and in the water. Within the water of Lake Geneva is a border, a national frontier which fascinates, which frightens, which animates the desire for transgressions and petty offenses of all kinds.
Text: Alan Croissant 
Image : © Katharina Hohmann