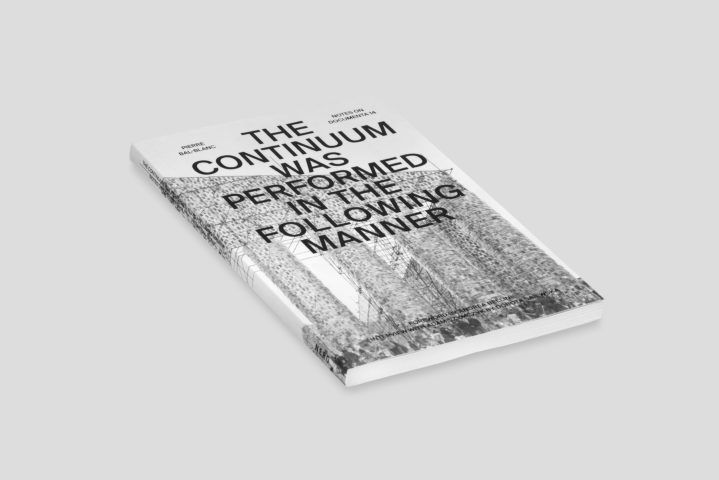 Book launch & conversation on documenta 14 and 15
---
With Pierre Bal-Blanc, Andrea Bellini, Ayşe Güleç & Andrea Linnenkohl
---
On Tuesday June 7, the Centre d'Art Contemporain Genève will host a book launch and a panel conversation about the transition from documenta 14 to documenta fifteen, in the context of the publication of THE CONTINUUM WAS PERFORMED IN THE FOLLOWING MANNER by Pierre Bal-Blanc.
The panel conversation will reunite Andrea Linnenkohl and Ayşe Güleç from the documenta fifteen curatorial team, in conversation with Pierre Bal-Blanc, curator of documenta 14, and Andrea Bellini, director of the Centre d'Art Contemporain Genève.
Andrea Bellini, who wrote the preface of this book, will moderate the conversation and explore the different contributions to the book. With documenta fifteen due to open this June, the panel discussion is also a great opportunity to understand the transition from the previous documenta 14 to the forthcoming edition organized under the artistic direction of the Indonesian collective ruangrupa.
In 2017, Adam Szymczyk was asked to open the most important contemporary art exhibition in the world. Szymczyk and his team moved the exhibition outside the borders of Kassel, to Athens. Their curatorial approach pushed the exhibition to new limits, especially in institutional and political terms.
In this book, published five years after the exhibition, Pierre Bal-Blanc looks back at that historical moment in the light of its "scandal." The long, in-depth essay is a detailed recollection and reflection that considers the events from a critical perspective. As in a diary, Bal-Blanc recounts his personal experiences in overturning the dominant perspective, offering readers a new and personal vision not only of the artistic choices made, but also of the political and social dynamics that they engendered.
The book concludes with an extensive and thought-provoking conversation between Adam Szymczyk and Dorota Sajewska. Overall, the publication offers the possibility to study and understand the extraordinary phenomenon that is documenta, through the voices of those who for too long remained silent in the noisy media chaos that accompanied the events. The book is therefore an invitation to reread the events in a different light and reflect on the merits and limits of one of the most controversial and stimulating editions of documenta ever held.
This publication is produced by the Centre d'Art Contemporain Genève and published by NERO. For his research, Pierre Bal-Blanc received the support of the Centre national des arts plastiques (Cnap).
The event is free with limited capacity. The Centre therefore invites the public to register here or by contacting the Centre: info@centre.ch
The panel conversation will take place in the Conference Room on the ground floor of the bulding.
Image credits: © NERO, VL9 Photography