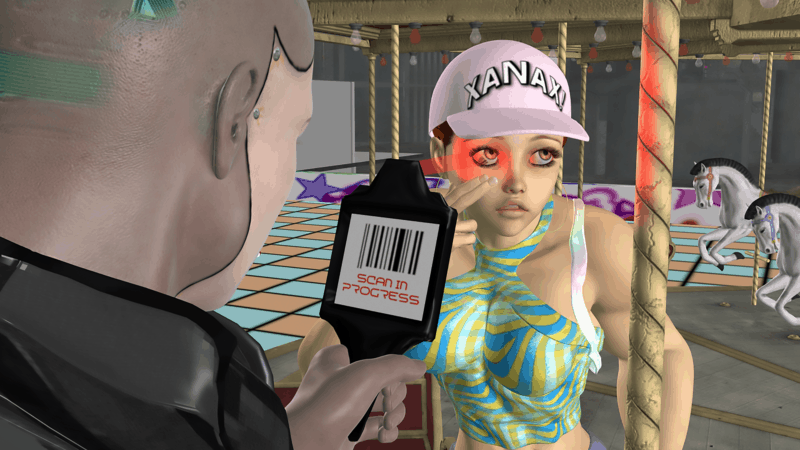 ---
The Centre d'Art contemporain Genève is pleased to welcome Jon Rafman, one of the leading artists of the digital age, to present four of his recent films. His unscrupulous and disturbing works explore the social and existential impact of the web, its platforms and the cryptic productions of some of its communities.
Still Life (Betamale) (2013)
Still Life (Betamale) assembles an unsettling parade of still images, photos, and videos that form a kind of collective crie-de-cœur of online subcultures. As pixelated fantasies consummate erotic and violent impulses, we also observe the mess and dysfunction that virtual gratification leaves in its wake. Squalid gaming setups resemble hospital beds thrust into landfills and trash obscures the symbols on grimy keyboards. These grim images frame a parade of frenzied images and strange performances: Furries sway, strut, vacuum in Spandex, and bounce comically on fitness balls. A desperate furry slowly sinks into a pit of mud, straining mutely towards the viewer. Are we observing mindless amusements, refined depravity, or new forms of prayer? "The images captivate you," a voice addresses us. "You can still see every detail clearly, but can't grasp the meaning. Our fascination aligns with that of the strange figures onscreen, the separation between spectator and spectacle breaks down. Have we also lost control of the border between reality and dream, noise and meaning?
You, The World and I (2010)
When Orpheus' beloved Eurydice dies, he cajoles his way into the underworld with his musical charms and his lyre. Wanting her but not her shade, he cannot forbear looking back to physically see her and so loses her forever. In this modern day Orphean tale, an anonymous narrator also desperately searches for a lost love. Rather than the charms of the lyre, contemporary technological tools, Google Street View and Google Earth, beckon as the pathway for our narrator to regain memories and recapture traces of his lost love.
Poor Magic (2017)
Jon Rafman's Poor Magic (2017) is a vision of a post-human dystopia featuring animated 3-D bodies continuously tortured in abstract digital space. The video presents the viewer with a haunting programme of repeating motifs: a blue featureless avatar, a view from a colonoscope, and ranks of identical figures crashing and toppling over each other, made with the help of crowd-simulation software. While a poetic lament, Poor Magic addresses the fragmented consciousness of a post-physical existence. The film presents a terrifying image of a future where all humanity is uploaded to a virtual purgatory and endlessly abused. Or perhaps it is also a brutal representation of the present moment and the effect that technology has on our flesh and psyche.
Dream Journal 2016-2019 (2019)
Rafman's latest single-channel video, Dream Journal 2016-2019 (2019), explores the effects of technology and information overload on the contemporary psyche. Set in a virtual tech-noir urban space populated by strange hybrids of non-humans and augmented people, part of the expansive, fractured narrative focuses on the continued adventures of Xanax Girl and her search for her companion – a hybrid dog/seal with the head of a boy – who has been abducted. The film, which arose from the artist's daily practice of animating his dreams using hobbyist 3D software, weaves together deep-web imagery with hardboiled detective story tropes and repressed libidinal fantasies to create a nightmarish vision of an internet addict's unconscious.
Jon Rafman was born in 1981 in Montreal, Canada. He studied Philosophy and Literature at McGill University in Montreal and received an MFA from the School of the Art Institute of Chicago. His work explores the impact of technology on contemporary consciousness, incorporating the rich vocabulary of virtual worlds to create poetic narratives that critically engage with the present.
Rafman's recent solo exhibitions include The Mental Traveller, Fondazione Modena Arti Visive (2018), Dream Journal 16' – 17', Sprueth Magers Berlin (2017), I Have Ten Thousand Compound Eyes and Each is Named Suffering, Stedelijk Museum, Amsterdam (2016), Westfälischer Kunstverein, Munster (2016), Musée d'art Contemporain de Montréal (2015), and The Zabludowicz Collection, London (2015). His works have been featured in prominent international group exhibitions, including the 58th Venice Biennale (2019),  Leonard Cohen: A Crack in Everything, Musée d'Art Contemporain de Montréal (2017), K11 Art Shanghai (2017), Suspended Animation, Les Abattoirs, Toulouse (2017), Sharjah Biennial (2017), Berlin Biennial 9 (2016), Manifesta Biennial for European Art 11 (2016), The Future of Memory, Kunsthalle Wien (2015), Speculations on Anonymous Materials, Fridericianum, Kassel (2015), and Biennale de Lyon (2015).