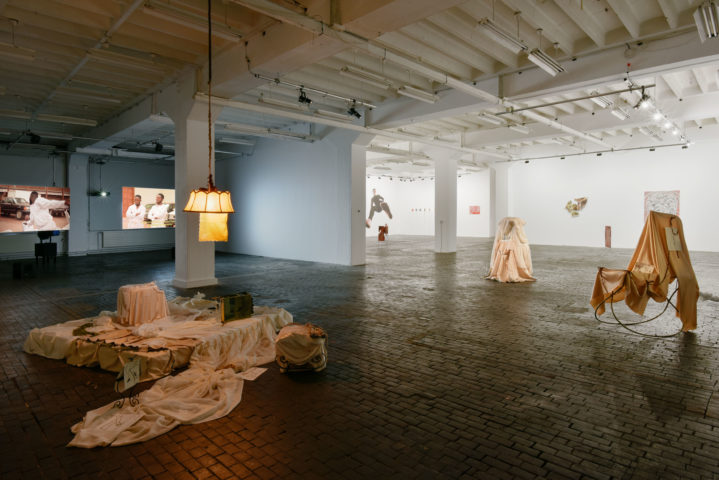 Lemaniana Performances
---
Jessy Razafimandimby & Leonardo Pellicanò
---
On the occasion of its exhibition Lemaniana, the Centre d'Art Contemporain Genève is pleased to present a performance program in collaboration with the Arsenic –Centre d'art scénique contemporain of Lausanne. A first part of the program is presented in Geneva at the Centre as well as in its neighbor space Le Commun, and then a second part will be presented at the Arsenic in October 2021.
This Sunday, May 30, the Centre is pleased to present the performances of Leonardo Pellicanò and Jessy Razafimandimby.
16.30
Jessy Razafimandimby, Droit de Visite de Digestion
Centre d'Art Contemporain Genève, 2nd floor
SOLD OUT
Droit de Visite de Digestion is a performance that Razafimandimby presented for the first time in 2019 at the Arsenic in a theatrical configuration. For Lemaniana,  the artist is conceiving a new performative piece based on the layout of his new device, which is the installation presented on the 2nd floor of the Centre d'Art Contemporain Genève. Jessy Razafimandimby's performances take place mostly in and around his installations decorated with various objects and drawings. These are presented in the form of sets invoking images of fictional interiors awaiting presence or narration. The artist embodies figures with a familiar, sometimes almost familial character and attempts to blur the boundaries of domestic, scenic and institutional space to make the place an address for encounters.
17.00
Leonardo Pellicanò, All of Everything, Erased
Le Commun (access through the common hall of the BAC)
SOLD OUT
All of Everything, Erased is a performance during which the artist is led by subtle emotional clues, in an attempt to speak the truth about his specific condition, and the sorrows of the world at large. He will go through many phases of expansion and contraction, while speaking to the void of incommunicability between him and the audience.
Free events with limited capacity. Reservations required by clicking on the links above.
Cover image: Jessy Razafimandimby, Droit de Visite de Digestion, 2021. Exhibition view of
 

Lemaniana: Reflections on Other Scenes

at Centre d'Art Contemporain Genève.

Photo : Mathilda Olmi