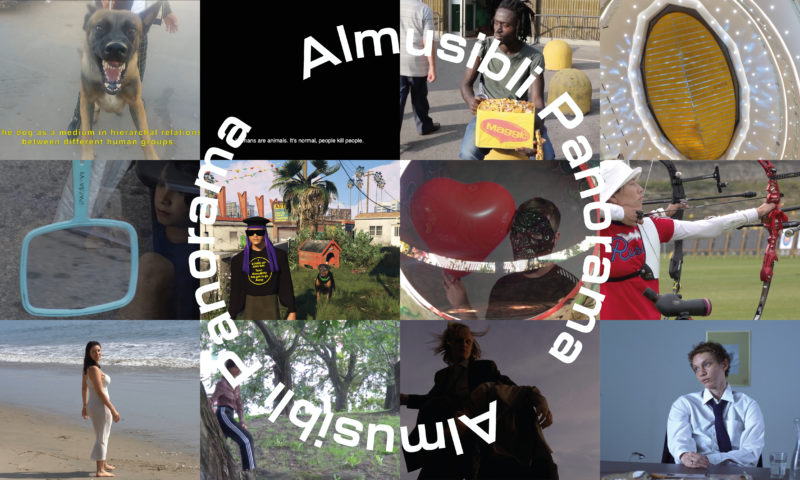 Almusibli Panorama
July – October 2020
---
Roman Selim Khereddine, Andrea Vescovi, Adji Dieye, Alessia Gunawan, Jiajia Zhang, Alfatih, Ian Wooldridge, Remy Ugarte Vallejos, Miriam Laura Leonardi, Mia Sanchez, Linus Stiefel & Mindaugas Matulis, Camille Dumond
---
We are happy to host in our Cinema Dynamo, a survey of the first four month of the films presented in the program Almusibli Panorama, on our digital extension, the 5th floor.
Each month, the Swiss curator Mohamed Almusibli presents a selection of digital works recently produced by Swiss artists or artists living and working in Switzerland in the Works section on the 5th floor. At the end of a year of programming, a panorama of the territories and forms emerging from the Swiss art scene in all its diversity will thus be drawn up.
Roman Selim Khereddine
German Shepherds Need Heroes Too
2020
This video focuses on the links between German and Belgian shepherds and their owners in Morocco, where this type of dog is particularly popular. The artist questions the owners, in order to know if they are influenced by the violent past of their canids, knowing that these dogs have historically been used in military and police work. Excerpts from Youtube videos of dog lovers and reports are combined here with an essay appearing in the form of captions.
Roman Selim Khereddine, born in 1989, lives and works in Zurich. He holds a master's degree in history from the University of Zurich and a fine arts degree from the Zurich University of the Arts, ZHDK.
Andrea Vescovi
Punk Funeral
2020
Punk Funeral comes from a YouTube post from an Italian online journal. The post was about a murder and the title was: "She gave me the virus and I killed her". The work is structured around responses posted in reply to one specific comment under the video. The final picture of all of these voices reenacts the abuse, shallowness and selfishness displayed, ultimately becoming a funeral farewell following this depicted girl's death.
Andrea Vescovi, born in Savona in 1996, lives and works in Lausanne where he attends the master in visual arts at ECAL/Ecole cantonale d'art de Lausanne.
Adji Dieye
Circuit Fermé
2017
Circuit Fermé is a video performance belonging to a larger project titled Maggic Cube. Maggic Cube is the result of a research into the notion of branding and its influence on the production of visual culture in the West-African sphere. The project title refers to the famous Maggi-stock cubes, which have become a key ingredient in many West African cuisines. Adopting ironic attitude towards the appropriation of space through the selling of goods, this video features a young man strolling around a Milanese market to sell these "magic" cubes.​
Adji Dieye, born in 1991, is an artist living and working between Zurich, Milan, and Dakar. Dieye holds a Bachelor's degree in New Technologies of Arts from the Academy of Fine Arts of Brera in Milan and a Master of Fine arts from the Zurich University of the Arts, ZHDK.
Alessia Gunawan
Counter Faith
2020
Counter Faith explores a personal narration that aims to understand the motor behind the construction of gated communities in Indonesia as the violent imaginaries of 1998 remain unresolved in the nation's damaged system. Questioning the role of violence and working through experiences of trauma, Gunawan looks at how much these stories have impacted the construction of personal perceptions.
Born in Jakarta in 1995 to Italian and Chinese Indonesian parents, Alessia Gunawan is a multimedia artist primarily working with photography and film. In her projects, Gunawan focuses on unveiling the hyper saturated images that conceal the various aspects of a globalized and seemingly connected contemporary culture.
Jiajia Zhang
Orlando, Chapter I
2019-ongoing
Orlando is based on Virginia Woolf's book of the same name and Sally Potter's adaptation from 1992. The video is an attempt to 'exteriorize consciousness' or to describe the secret machinery of the mind by finding and collaging images of the outer world with a Spanish dubbed soundtrack of Orlando.
As Orlando lives through 400 years which bring changes in costume, history, role and sex, the images of our times also shape us and write themselves on our identity. The video presented is the first chapter of the 93-minute film made by the artist, which is 7 in length: Death / Love / Poetry / Politics / Society / Sex / Birth.
Originally trained as an architect, Jiajia Zhang is culturally both Chinese and Swiss, and her rigorous and quite moving artistic practice—which moves deftly between film, writing, sculpture, and installation—mediates between common materials, relational and representative space, myriad political perspectives, and the diaristic poetry of the everyday.
Alfatih
On Vacation
2019
On Vacation is a series of vlogs recorded in San Francisco (US), Los Santos (US/GTA) and Lausanne (CH), initially uploaded to Instagram over a five-week period between February and March 2019. The city of Los Santos was altered to stage a fiction, which then evolved according to unpredictable in-game events and audience inputs—on gun violence, on toxic masculinity, on reclaiming spaces, on performative activism, on vacation.
Alfatih (b. 1995) lives and works in Fribourg and has presented interactive, installative and video works in institutions and spaces such as Haus der elektronischen Kunste, Les Urbaines, or WallRiss.
Ian Wooldridge
HOMEBASE
2020
The foundation of HOMEBASE is a 3D scan of a failed utopian family home, the "Casa Sperimentale". It's the kind of building one would feel dreamy about when coming across it in a lifestyle magazine, a space for escape and projection that one can take and project onto and this time the projection is of a karaoke bar. HOMEBASE unfolds with coded text and sound that are informed by personal adolescent history, negating the self with a universal nostalgia.
Ian Wooldridge (1982, England) is an artist and author based in Zurich. He is also a musician in the group LIVE SHOW, which he forms with the architect and composer Li Tavor.
Remy Ugarte Vallejos
Tendency of Capture
2020
As a research on power structures and resistance, Tendency of Capture looks at notions of the tribal and the primitive in Western societies by confronting scenes from rural Bolivia with urban tribes in the city of Berlin. In doing so, the work seeks to link similarly distant subjects and addresses the intersections between primitive cultures and technologies of contemporary life. Tendency of Capture thereby reflects upon 'capture' in a broader sense: Capture within structures of control and surveillance societies; capture in terms of hunting and animal instinct; capture in relation to land occupation, exploitation, and oppression of the indigenous by colonial powers; and finally, capture in terms of image capture, asking the question: Doesn't the act of capturing images always involve a certain degree of violence?
Remy Ugarte Vallejos (1993, Fribourg) lives and works in Lausanne. He has a degree in photography from the ECAL (Lausanne) and is currently enrolled in the Master of Fine Arts at the HEAD – Genève.
Miriam Laura Leonardi
Sylvia
2020
In a series of video portraits of female friends, Miriam Laura Leonardi undertakes a task with her subject. In her most recent portrait, Sylvia (2020), Miriam films herself filming former video vixen and celebrity stylist Sylvia Nek picking seashells with her son on the shore. Earlier portraits include Michèle (2019), in which Miriam and the artist Michèle Graf each play one hand of Scott Joplin's ragtime classic The Entertainer, a piece taught to both women by their fathers. In Géraldine (2016), she gives a camera to publisher and writer Géraldine Beck and takes her on a boat trip in the jungle. In Bleta (2015), Miriam goes hunting with the artist Bleta Jahai, examining each part of a deer's innards and organs with their hands after its stomach is slit open. The soundtrack to Sylvia is called Big Coast by Beautiful Swimmers.
Miriam Laura Leonardi (1985, Lörrach) holds a Master of Fine Arts from the ZHdK after studying photography in Paris. She currently lives and works in Zurich.
Mia Sanchez
Fists Full of Secrets
2019
A woman dressed in a coat and wearing sunglasses wanders through a city. She looks for things to react to in urban space and chances upon them as she wanders around. She is present, yet her stoic and mysterious autonomy defy conventional behavioral patterns…
Mia Sanchez (1988, lives and works in Basel) is a visual artist whose work tackles perceptions of language, narratives and rythme, as a tool for thinking identity, through different mediums such as sculpture, photography and video.
Linus Stiefel & Mindaugas Matulis
Tu veux sortir avec moi ?
2020
Tu veux sortir avec moi? is a video clip for the band Crème Solaire. The video stages a wild ride in the hot summer sun that causes sweat to pour down the cold-blooded faces of Mendog&Stevil, the protagonists created by Linus Stiefel and Mindaugas Matulis. They run, chasing each other, pushing each other and making their way through the suburbs in search of a mysterious suitcase.
Linus Stiefel (1996, lives and works in Zurich) is a swiss artist and musician, frequently working in collaboration with Mindaugas Matulis (1997, lives and works in Lausanne). Their fragmentary workflow is both their boon and bane.
Camille Dumond
The escape
2019
The escape is a fictional documentary highlighting from behind the scenes the lives of airport employees. Based on real stories reenacted by actors, the film narrates the imaginary and emancipating journey of three stopover agents within a heterotopia.
Camille Dumond (1988, lives and works in Geneva) is an interdisciplinary artist with degrees from HEAD – Genève and ESBANM, Nantes. Her practice takes the form of installations and objects, conceived before or after the films she has been making since 2017, on the edge of the visual arts and cinema.