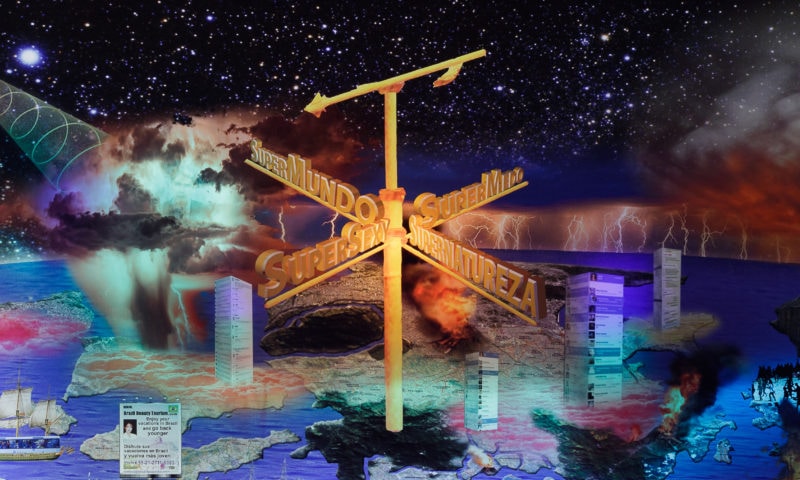 Guerreiro do Divino Amor
Superfictional Sanctuaries
---
The Centre d'Art Contemporain Genève is pleased to present Superfictional Sanctuaries, the first retrospective of Swiss-Brazilian artist, Guerreiro do Divino Amor.
The exhibition premieres The Miracle of Helvetia, a work commissioned by the Centre d'Art Contemporain Genève with the support of the Embassy of Foreign Artists and DAAD Artists-in-Berlin program. As the sixth and latest chapter of the artist's ongoing research project, Superfictions, The Miracle of Helvetia explores what makes up the Swiss collective imagination and national identity.
The Superfictions saga began in Brussels in 2005 aiming to create a 'Superfictional World Atlas'. The research process typically starts in the territory which will become the artist's subject. Guerreiro do Divino Amor combines his own experience with digital archaeology, excavating and reappropriating institutional corporative iconographies and narratives. His Superfictions therefore materialize into films, publications, backlit animated panels, installations and performative conferences. The science fiction aesthetics is a way to shed light on reality and its inner workings.
Six chapters have already been produced by the artist, from Brussels to Rio de Janeiro, all of them being interrelated. At the same time obsessive, grandiose and ironic, these fictional portraits include different perspectives that grasp the historical, social, media-related political and religious identity of a territory. By calling upon collective imagination, the artist reveals the impact that fictions of various kinds have on the development of civilization and how a collective understanding of nations and cities is created.
At the Centre d'Art Contemporain Genève, Guerreiro do Divino Amor presents for the first time all existing Superfictions, turning the institution into a superfictional sanctuary. Moving image works are presented within installations including large-scale backlit panels and sculptures. The Miracle of Helvetia is the central work of the exhibition, taking up three rooms in an immersive temple-like construction.
Guerreiro do Divino Amor (b. 1983, Geneva) lives and works in Rio de Janeiro. He holds a master's degree in architecture. He has participated in the Sorocaba Frestas Trienal and in exhibitions at Iberê Camargo Foundation, Pinacoteca of São Paulo, Casa França-Brasil, MAR, CAC of Vilnius (Lithuania) and Arte Pará 2018. Also in 2018, he held the individual exhibition "Superficções" at Paço das Artes/MIS-SP. He is currently a fellow of the DAAD Artists-in-Berlin program.
Superfictional Sanctuaries is curated by Andrea Bellini and benefits from the support of the Loterie Romande, Embassy of Foreign Artists and DAAD. A publication has been produced for the occasion with the support of DAAD Artists in Berlin program with funds from the German Federal Foreign Office.
COVER IMAGE: Guerreiro do Divino Amor, Supercarioca Superfictional Cosmogony, 2016 (detail). Backlight panel with LED moving light system, 200 x 100 cm, wood and acrylic structure, LED and mechanic light system. Courtesy of the artist.