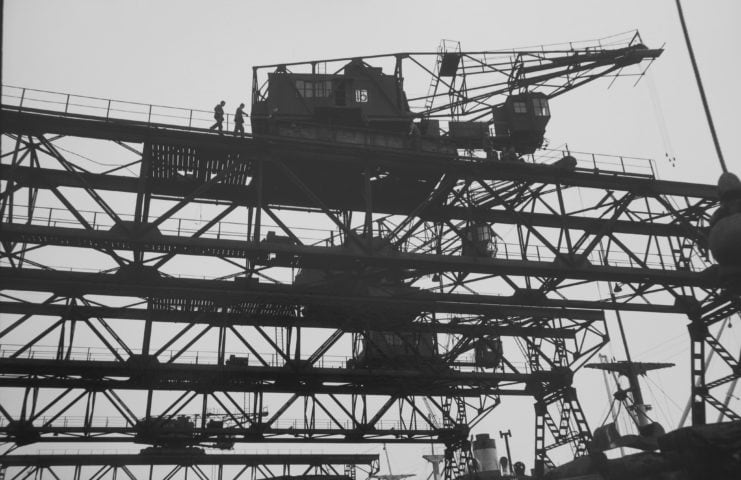 Lisetta Carmi
Genova Porto
---
Lisetta Carmi was born in 1924 into a middle-class Jewish family in Genoa. She initially studied music, and became a fairly successful concert pianist. But in 1960, she turned her attention to photography. Although her career in this field lasted only eighteen years, it yielded a major body of work.
Carmi saw photography as an important tool of political activism and anthropological investigation. Her most important photo series include L'Italsider (1962), which shows the interiors and exteriors of steel mills; Genova, il porto (1964), focused on the theme of labor; and Erotismo e autoritarismo a Staglieno (1966), which explores a historic cemetery in the Staglieno district of Genoa. She also took twelve famous portraits of Ezra Pound, as well as portraying subjects such as Lucio Fontana, Leonardo Sciascia, Edoardo Sanguineti, Alberto Arbasino, Sylvano Bussotti, and Jacques Lacan.
The Centre d'Art Contemporain Genève is pleased to present an exhibition in two parts highlighting series of works, which testify to the artist's sensitivity to the workers' world and their cause. Presented through May and June, the series I Travestiti is one of the first documentations of the italian LGBTIQ community. The second part of the exhibition, presented from June 21 to August 25, will focus on the series Genova, il porto and L'Italsider.
The series Genova, il porto was shot in 1964 in the port of Genoa. It constitutes one of the most significant post-war testimonies on the theme of labor, revealing the contrast between the city center and its harbor. The images illustrate the strong social and cultural identity of Genoa in the 1960 and 1970s.
The intense activity of the port is documented by a series of landscape shots. The artist focuses on the difficult situation of dockworkers, forced to work in inhuman conditions, from unloading toxic products without any protection to the harsh handling operations of goods.
Carmi had pretended to be the cousin of one them in order to access the site and document it: "I wanted to denounce their terrible working conditions. The Camalli (a term used to describe dockworkers) were carrying frozen carcasses of animals on refrigerated ships, going from a crushing heat to freezing temperatures. They wore rags to protect their bare feet and had very long work cycles, the port being active day and night."
A few pictures of the workers of Italsider, one of the most important steel companies in Italy based in Genoa, complete the exhibition. This raw series of photographs will become the emblem of a new photographic language, a communication tool for trade unions.
Cover image: Lisetta Carmi, Genova il Porto, 1964. © Lisetta Carmi, courtesy Martini & Ronchetti