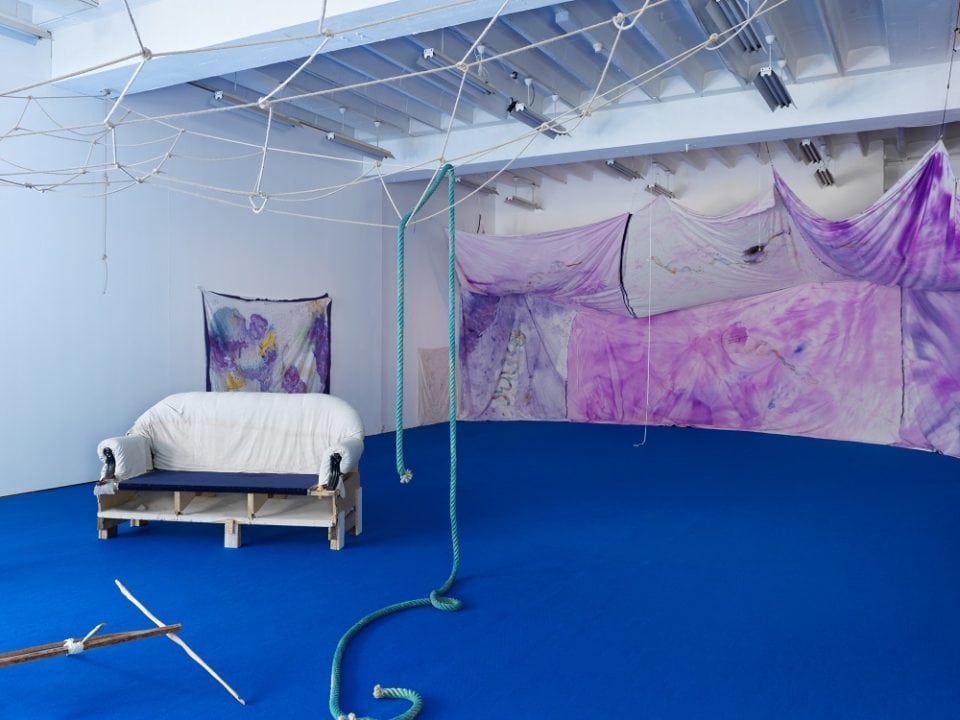 Reto Pulfer
Dehydrierte Landschaft
---
The Centre d'Art Contemporain Genève is pleased to present Reto Pulfer's first exhibition in a Swiss art institution.
Self-taught artist, Reto Pulfer constructs singular universes, both intuitive and complex kinds of 'total artworks' combining installation, sculpture, painting, performance, music and architecture. To create his environments, he adopts a very simple technique, close to the crafts, and uses basic materials, often recycled, such as bed sheets, cloth, paper and found objects, tinged by an aura.
Pulfer is an artist of method and process, he uses a systematic nomenclature to title his works and invents simple fictional narratives – that he calls mnemonics – as the basis for each of his interventions.
The installation he presents for Dehydrierte Landschaft (dehydrated Landscape) is conceived as a route through a succession of tent installations containing at its heart a synaesthesic oeuvre taking the shape of a big hemp net called MMMS Reticulum Dehydrierte Landschaft. Each piece represents a different mental and conceptual state. MMMS Reticulum Dehydrierte Landschaft will be activated on the opening day, as part of a performance by the artist who will then play the work's soundtrack live, making use of the presented objects.
Textile wall pieces, made of torn, reassembled, sewn and painted textiles representing mnemonics, plans and other systems will be presented in parallel to this installation.
Reto Pulfer (1981, Bern) grew up in Basel Land and now lives in Berlin. In 2015, the artist presents a series of solo exhibitions at the Centre d'art Contemporain, Geneva;  Musée régional d'art contemporain Languedoc-Roussillon, Sérignan, France; Spike Island, Bristol, UK and Centre International d'art et du Paysage, Île de Vassivière, France. Recent solo exhibitions include: Hollybush Gardens, London; Kunstverein Nürnberg – Albrecht Dürer Gesellschaft, Nuremberg; Swiss Institute, New York and Istituto Svizzero di Roma, Milan.
Curated by Andrea Bellini
Cover image: Reto Pulfer, Exhibition view of Dehydrierte Landschaft at Centre d'Art Contemporain Genève, 2014. Courtesy of the artist. Photo : Annik Wetter.