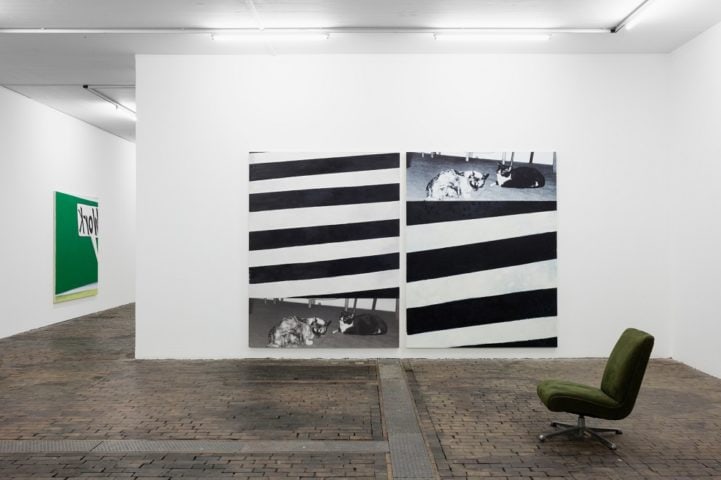 Rochelle Feinstein
In Anticipation of Women's History Month
---
The Centre d'Art Contemporain Genève is proud to present In Anticipation of Women's History Month, the first comprehensive retrospective of the last 25 years of American artist Rochelle Feinstein's production from January 29th to April 24th, 2016. This exhibition is organized with Städtische Galerie im Lenbachhaus, Munich (7.6 – 18.9 2016) and kestnergesellschaft, Hannover (3.12 – 12.2.2017) and the Bronx Museum of the Arts (27.6 – 22.9.2018) in New York City.
Building on an extensive painting lexicon, Rochelle Feinstein employs an array of styles and media, such as silkscreen, photography and assemblage, hard-edged graphic compositions as well as expressionist factures.
These combined manners and processes cross-reference the historical with the vernacular, the mythologies of the avant-garde as well as popular culture. At once social commentary and autobiographical incidents, her work offers a biting reflection on the role of an artist working in the arena that is painting in America today.
For In Anticipation of Women's History Month, more than 70 works are presented non-chronologically on two floors of the Centre. The exhibition layout emphasizes thematic and formal associations allowing visitors to move from a reflection on the use of geometry in the twentieth century art to hilarious projects of revenge against ex-lovers, from diaries of failed travels across Europe to a meditation on the use of language and typography in painting, and from the fatigue of daily scribbling to the need to create meaning.
A reference monograph will be published by the Centre d'Art Contemporain Genève, the Lenbachhaus, Munich and the kestnergesellschaft, Hanover on the occasion of this exhibition.
Rochelle Feinstein was born in 1947 in New York where she lives and works. Feinstein was recently included in the 2014 Whitney Biennial. Recent solo exhibitions include On Stellar Rays, New York, NY (2014/2013/2011); Higher Pictures, New York, NY (2013); Art Production Fund, New York, NY (2009); Momenta Art, Brooklyn, NY (2008); The Suburban, Chicago, IL (2008). Recent group exhibitions include Contemporary Art Museum St. Louis, St. Louis MI (2015); The Green Gallery, Milwaukee, WI (2015); University of South Florida Contemporary Art Museum, Tampa, FL (2014); Silberkuppe, Berlin (2014); Martos Gallery, New York, NY (2014); 32 Edgewood Gallery, Yale School of Art, New Haven, CT (2014); New Galerie, Paris, France (2012); Soloway, Brooklyn, NY (2013, 2012); Fredericks & Freiser, New York, NY (2012); International Print Center, New York, NY (2012); White Flag, St. Louis, MO (2011); Blanton Museum of Art, Austin, TX (2010).
Feinstein is currently Professor of painting and printmaking at Yale University School of Art, where she has taught since 1994. Other recent awards and grants include a Radcliffe Institute Fellowship, a Guggenheim Fellowship, American Academy of Arts and Letters Purchase Prize, Anonymous Was a Woman grant, a Louis Comfort Tiffany Foundation Fellowship, a Joan Mitchell Foundation grant, and a Foundation for Contemporary Arts grant. Her work is in numerous prominent museum and private collections including the Museum of Modern Art, New York and the Pérez Art Museum Miami (PAMM).
2nd floor
On November 19, 2002, Michael Jackson held his baby over a Berlin hotel balcony. Three days later, he stated: "I Made A Terrible Mistake". In Rochelle Feinstein's eponymous installation, the King of Pop is one of the artist's two conceptual muses, along with Barry White, who countered his mistakes with sensual redemption. With him, lamentations of regret, longing and desire are trumped by pleasure. There is no space for lengthy apologies. White died in the summer of 2003, while Rochelle Feinstein was staying in Giverny in France. It was there, at Monet's synthetically articulated garden, that the possibility of a fall from grace into grace began taking form. "Mistakes are allegories of contemporary life," says Rochelle Feinstein, "whether on an iconic scale or a private one."
In 2009 the economy was either shut down or moving backward. Rochelle Feinstein had just consolidated two storage spaces into a single archive. "My Studio was packed," she recounts, "with diverse materials, including paint to make paintings from— usable 'assets' with unrealized potential." She then launched the project titled The Estate of Rochelle F., which began with the impetus to use these surplus materials to make work. Her idea was to create a past, intended as an accumulation of many paintings that would materialize as a corpus of works— there by folding the beginning and the end of her project into a single point.
3rd floor
Rochelle Feinstein has an affinity for clichés and empty phrases. Having A Wonderful Time (1992) is one of those, Love Your Work (1999-2000/2014) would be another. Her use of language is matched by an equally cliché commitment to the language of abstraction: the "modernist grid", hard-edged or expressionistic compositions, etc. These widely recognized tropes function as access points into a layered practice that disrupt any notion of purity (whether that of "Abstraction", the "Artist's Voice", etc.), and yields a vast array of possible interpretations.
Simultaneously, Rochelle Feinstein grounds her work into a vernacular reality that incorporates private events of her life (such as in, for example, Travel Abroad, 1999, or Home Study, 1999-2013). Whenever the intimately personal is at stake, it is usually accompanied by glittering wit and a deadpan payoff. "The world needs change," says American painter Amy Sillman, "and Feinstein is a motherfucking cashier."
Curated by Fabrice Stroun and Tenzing Barshee