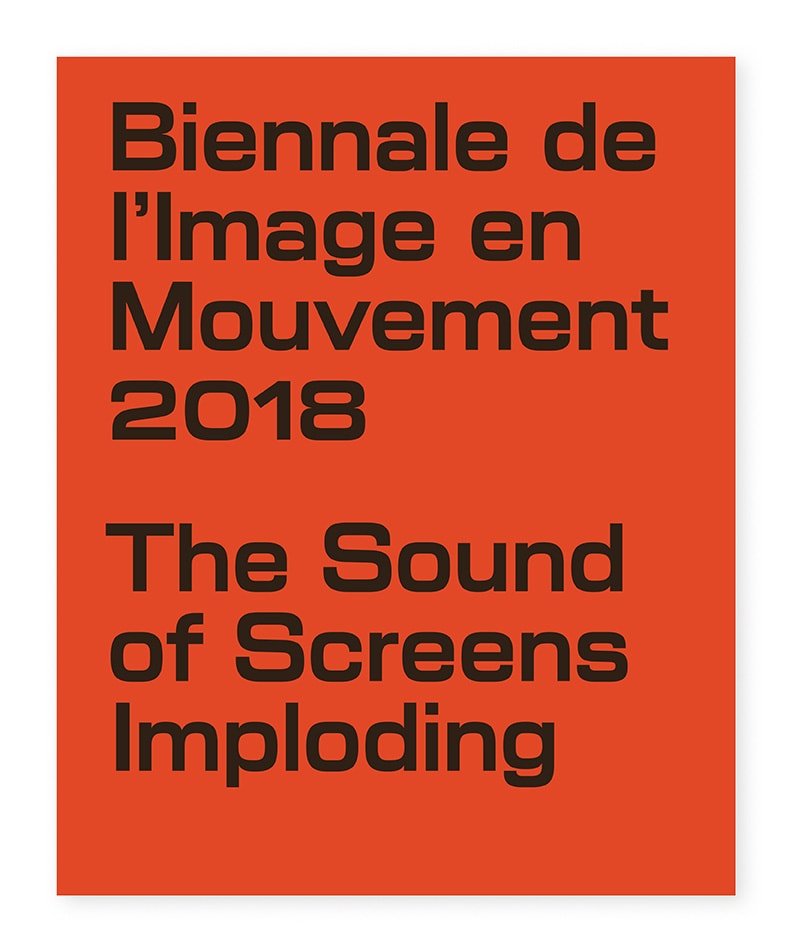 Biennale de l'Image en Mouvement 2018
Edited by Andrea Lissoni and Andrea Bellini
Corraini Edizioni, Mantova

English edition
September 2019
ISBN 9788875708108

Hard cover
24 × 29 cm
174 pages
Price
CHF 35
This volume is the catalogue of the 16th edition of the Biennale de l'Image en Mouvement (BIM). The Biennale de l'Image en Mouvement was founded in 1985 in Geneva and was reinvented in 2014 as a platform for producing new works. A unique hybrid event—at the crossroads of a film festival, a plethora of solo exhibitions, performances and a platform for research and production—the BIM brings together visual artists, performers, musicians and filmmakers. The latter engage in a dialogue with the curators throughout the production process of a new work, financed or co-financed by the Centre and premiering in Geneva. The Biennale de l'Image en Mouvement in Geneva has therefore become a full-fledged production platform, with each edition presenting only new works.
The Biennale de l'Image en Mouvement 2018 wad curated by Andrea Lissoni, Senior Curator, International Art (Film) at Tate Modern, and Andrea Bellini, Director of the Centre d'Art Contemporain Genève. The concept revolved around a fundamental principle: that moving images now dwell outside the screen, lingering on in a fascinating kaleidoscope where vision can be shaped by sound as much as by the image itself. With more than 2,500 square meters at our disposal, the 2018 edition explored the status of the moving image and its exhibition format, building on the idea that the long era of projection on screens is drawing to a close—and will give way to environments that reverberate with the radiant echo of their implosion.
For this edition BIM's catalogue, we asked the 20 artists and artists' duos of this edition to invite a comrade in arms or friend to contribute a text on their work. The result is a polyphony of different voices, writing styles, and points of view that suitably mirrors the exhibition in its complexity and unpredictability.
This richly illustrated volume comprehends essays by Andrea Bellini and Andrea Lissoni on the 2018 Biennale de l'Image en Mouvement as well as a wide variety of textual contributions by Edwin Nasr on Lawrence Abu Hamdan, boychild on Korakrit Arunanondchai & Alex Gvojic, Rahel Aima on Meriem Bennani, Aaron Weldon on Tamara Henderson, Helen Molesworth on Kahlil Joseph, Daniel Berndt on Fatima Al Qadiri & Khali al Gharaballi, Ian Cheng, Majid Al-Remaihi and Abdullah Al-Mutairi on Sarah Abu Abdallah, Giona A. Nazzaro on Irene Dionisio, Pujan Karambeigi on James N. Kienitz Wilkins, Sarah Wang on Tobias Madison, Émile Ouroumov on Florent Meng, Tirdad Zolghadr on Bahar Noorizadeh, Thomas Zummer on James Richards & Leslie Thornton. Conversations between Negar Azimi and Neïl Beloufa, Mariano Blatt and Eduardo Williams complete the publication.