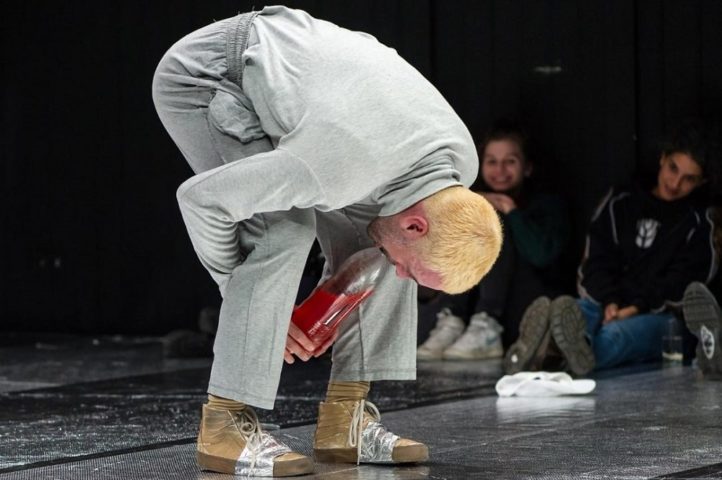 to CAMP
One week of living working and performing
---
Magdalena Chowaniec, Matthew Day, Pepê Dayaw, Natasza Gerlach, Göksu Kunak, Nils Amadeus Lange, ARIAH LESTER, Jos McKain, Andrius Mulokas, Arttu Palmio, Elissavet Sfyri, Dasniya Sommer, Lynn Rin Suemitsu, Antonia Steffens, Austeja Vilkaityte, Julian Weber, Andrea Zavala.
---
Questioning methods of production and inhabitation of institutional spaces, to CAMP invites 17 artists from different bodies related practices to bring performative proposals at the Centre d'Art Contemporain Genève and relate them to the specificities of the space. Spread on three floors of the Centre, the group will set up a base-camp as a platform where they live, cook, share and influence each other.
The group is composed of choreographers, dancers and performers, whose work is interdisciplinary and revolves around the notions of space and movement, as well as their relationship to the human body. Their individual approaches and eclectic practices extend from contemporary dance to classical ballet. They choreograph everyday life reflecting on diverse aspects of our society, including culinary art. These artists closely ally their artistic practice to sound and music, in order to provoke an emotional response. They search to create a form of hybrid performance by linking it to other disciplines such as the visual arts. The different participants are also reunited through the themes expressed in their creations, often centered around issues of power, identity, and gender.
Programmed every year, the project thus aims to bring together artistic personalities in a common project, offering them an unique environment for sharing and exchange, and resulting in the construction of a collective space, hosting all these diverse artistic approaches.
Curated by Andrea Bellini and Julian Weber. Co-produced with the Fluxum Foundation
PROGRAM
7-13 May 2018
11am – 6pm
Camp set up on the 2nd and 3rd floors and collective work. Open on demand.
9 may 2018
2 – 3.30 pm
Flux laboratory, Carouge
Anti Fascist Ballet School – workshop
By Magdalena Chowaniec
Open to everyone, reservation required till may 7th
agenda@fluxlaboratory.com
Hierarchy, control over one's body, synchronisation – these associations belong to the world of ballet, of the military, of today's society. In the Anti-Fascist Ballet School, these categories will be exorcised, rather than reproduced. The Anti-Fascist Ballet School takes ballet and somatic work with the body as a starting point to reveal roles in the preservation of ideologies and power relations of the present.
This project goes back to the roots of ballet, examines its potential for empowerment, and rediscovers the activist body. Anti-Fascist Ballet School is an offer open to everyone, to collectively uncover unconscious physical states of being, to re-discover the sense of touch and physical trust and to gain the courage to face the unknown today.
The public is invited to participate in the workshop at Flux Laboratory, open for the occasion on the public space.
Friday, May 11, 18–22h
Vernissage, fête, performances, concerts, etc.
Nowhere kitchen by Pepê Dayaw & open bar, music
Ongoing basecamp activities:
– Andrea Zavala, "Little Details – News Feed"
– Andrius Mulokas, "Space spicing"
– Elissavet Sfyri, "Dichotomy"
– Arttu Palmio, "I like to look at people"
Nils Amadeus Lange, "infrahuman (eau de parfum, 100ml)"
(tour)
Golin (Lynn Rin Suemtisu)
With Andrius Mulokas & Andrea Zavala
(Live set)
Seafruit (Magdalena Chowaniec
With Göksu Kunak & Antonia Steffens
(Live set)
DJ Camper
(DJ set)
Saturday & Sunday, May 12–13, 11–18h
Mini-festival, présentation des créations.
11.00–11.10
Göksu Kunak, "the bowels of an art opening (MLA format)"
Avec/With Magdalena Chowaniec, Göksu Kunak, Jos McKain, Dasniya Sommer
11.15–11.55
Morning Rave / Warm up
12.00–12.15
Dasniya Sommer, Untitled Dance
Avec/With Pepê Dayaw & Arttu Palmio
12.15–13.00
Dasniya Sommer, "Shibari installation"
Avec/With Lynn Rin Suemitsu
13.00–13.25
Andrea Zavala, "Visitantes"
13.30–14.00
Antonia Steffens, "Manualis in Vacuo"
Avec/With Göksu Kunak, Antonia Steffens, Lynn Rin Suemitsu, Julian Weber, Andrea Zavala
14.00–16.00
Natasza Gerlach, "Swiatło#1"
Avec/With Arttu Palmio, Natasza Gerlach
14.00–16.30
Matthew Day, "Assemblage Series #3 (Corps)"
Avec/With Magdalena Chowaniec, Göksu Kunak, Nils Amadeus Lange, Jos McKain, Andrius Mulokas, Arttu Palmio, Antonia Steffens, Austeja Vilkaityte, Julian Weber, Andrea Zavala
15.00–15.30
Göksu Kunak, "when we were kids
15.30–15.55
Andrea Zavala, "Visitantes"
16.30–16.45
Dasniya Sommer, "Untitled Dance"
Avec/With Pepê Dayaw & Arttu Palmio
16.30–16.50
Dasniya Sommer, "Idiosyncrasy"
17.00–17.30
Jos McKain, "we used to eat them"
17.30–18.00
ARIAH LESTER
Electro-pop neo-soul concert
ALL DAY
Arttu Palmio, "I like to look at people"
(Multimedia Installation)
Andrea Zavala, "Little Details – News Feed"
(Performance)
Pepê Dayaw, "Nowhere Kitchen"
(Cuisine & vie/Cooking & living)
Pepê Dayaw, "Leftover"
(Film)
Göksu Kunak, "Artist Survival Kit: Interviews"
(Interview des artistes/Artist interviews)
Austeja Vilkaityte, "Laima Salonen. Internal Sensation"
(Durational performance/installation)
Magdalena Chowaniec, "Dark Room Tinderness"
(Safe space)
Andrius Mulokas, "MATTER OF MATTERS vol. 6 (Backpacker)"
(Performance)
Elissavet Sfyri, "Dichotomy"
(Sculpture live)