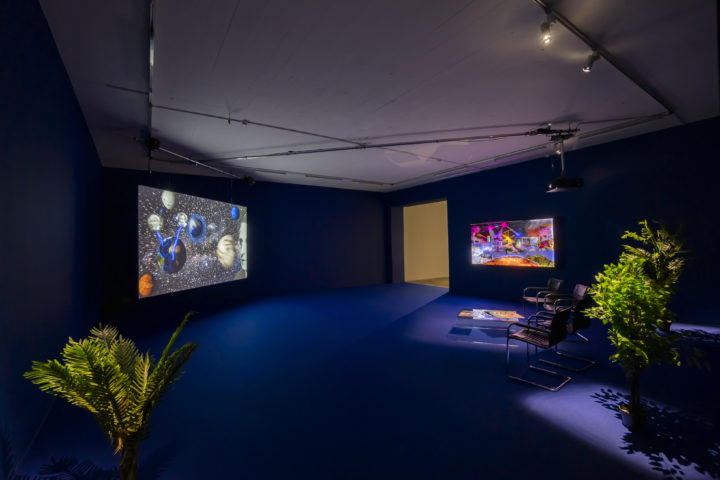 Late opening of the exhibitions
---
The Centre d'Art Contemporain Genève is open on Thursday July 7 until 9pm. This is an opportunity to visit all the exhibitions currently on view:
2nd floor
On the second floor, a group exhibition brings together the works of Mathis Altmann, Louisa Gagliardi, Deborah Joyce Holman, Tina Omayemi Reden and Dorian Sari — the artists nominated for the Swiss Emerging Artist Prize 2022 created by Société Générale Private Banking Suisse. Their work takes the form of painting, sculpture, installation and video art.  Don't miss the works of Deborah Joyce Holman, winner of the 2022 edition.
3rd floor
The third floor is dedicated to the Swiss-Brazilian artist Guerreiro do Divino Amor. This retrospective presents six chapters of the saga Superfictions, which presents fictional portraits of cities or territories. The Miracle of Helvetia, the central work of the exhibition, occupies three rooms in an immersive temple-like construction and explores the components of the collective imagination and the Swiss national identity.
4th floor
On the top floor, find the linocuts created by the young Ukrainian artists Geulla Bogoradova, Avviva Bogoradova, Rufina Bogoradova, Avvia Gor and Oksana Cantelmo during an artist residency at Project Space.
Free admission.