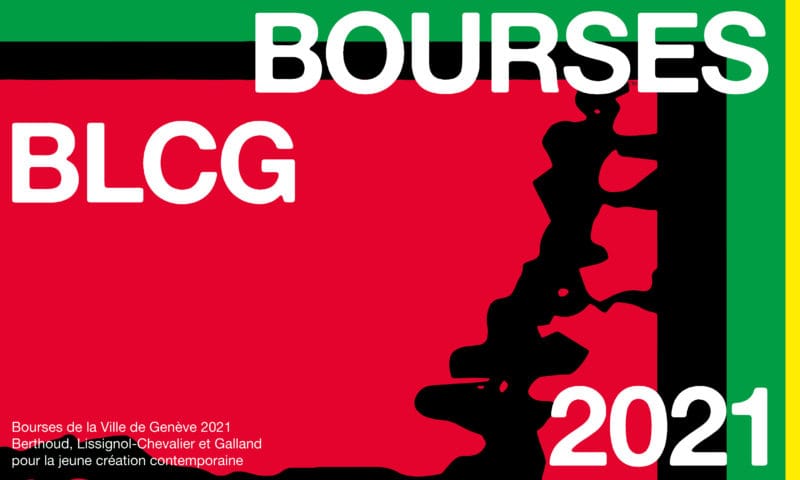 Bourses de la Ville de Genève 2021
---
Yvan Alvarez, Hugo Baud, Suzanne Boulet, Anaïs Defago, Chloé Delarue, Marc Eicher, Sabrina Fernández Casas, Paul Hutzli, Monika Emmanuelle Kazi, Camille Lacroix, Vicente Lesser, Matheline Marmy, Jessica-Maria Nassif, Gabriel Nunige, Charlotte Schaer
---
Grants of the City of Geneva 2021
Berthoud, Lissignol-Chevalier and Galland for young contemporary creation
Since 1955, the City of Geneva has awarded two grants to support young contemporary artists in the fields of visual and applied arts. Each grant is worth CHF 10,000 and is intended for artists under 35 years of age, offering them the opportunity to develop personal research or to pursue studies, for example abroad. In parallel with the City of Geneva's global reflection on the remuneration of artists, their working conditions and their recognition as professionals in a more general way, it was decided to allocate to each artist invited to exhibit an artist fee of CHF 2,000 for production costs. These grants are an important part of the City of Geneva's commitment to the promotion and support of artists.
Fifteen artists have been selected to exhibit their work in an exhibition to be held from September 8 to October 10, 2021 at the Centre d'Art Contemporain Genève:
Yvan ALVAREZ
Hugo BAUD
Suzanne BOULET
Anaïs DEFAGO
Chloé DELARUE
Marc EICHER
Sabrina FERNANDEZ CASAS
Paul HUTZLI
Monika Emmanuelle KAZI
Camille LACROIX
Vicente LESSER
Matheline MARMY
Jessica-Maria NASSIF
Gabriel NUNIGE
Charlotte SCHAER
Laureates :
Chloé Delarue, winner in Visual Arts
Marc Eicher, winner in Applied Arts
Various creative workshops are organized for children and adults. To learn more about these activities click on the links below:
More information about the workshops for children and families.
More information about the workshops for adults and teenagers.
Graphisme: Jean-Marie Fahy for the City of Geneva